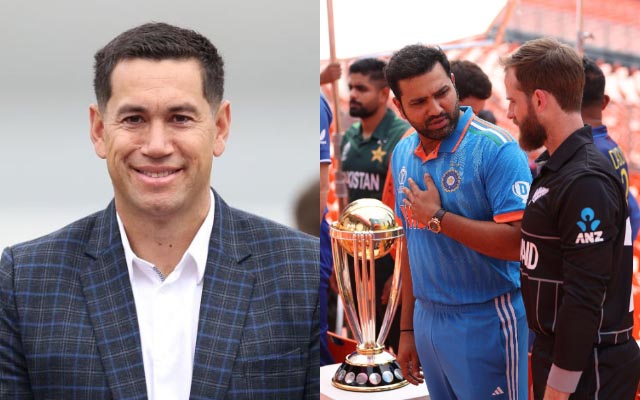 Ross Taylor, recalling the 2019 World Cup semifinal, acknowledged India as favorites for the WC clash but suggested their historical resilience will make New Zealand a team that could make India nervous.
Ross Taylor, the former New Zealand star, reminisced about the 2019 World Cup semifinal against India, emphasizing that despite India being dominant 'favorites' in the upcoming 2023 World Cup semifinal, the haunting memory of their defeat four years ago could make them 'nervous.' Having won all nine group-stage matches, India heads into the November 15 clash with New Zealand at Mumbai's Wankhede Stadium in scorching form.
In his column for ICC, Taylor pointed out that the Kiwis, similar to the 2019 scenario, have "nothing to lose," making them a potentially dangerous opponent.
"Four years ago, India went into the semi-final in Manchester as the form side in the tournament, while we were more focused on ensuring our net run-rate would keep Pakistan out of reach for the final spot in the top four," penned Ross.
"This time around, India are even bigger favorites, at home and having played so well during the group stage. But when we have nothing to lose, New Zealand teams can be dangerous. If there is a team that India will be nervous facing, it will be this New Zealand side," he added.
The 2019 semifinal loss, concluding India's campaign by 18 runs, was particularly agonizing as it marked MS Dhoni's farewell from international cricket. Taylor highlighted the memory of Dhoni's run-out, a moment still cherished by New Zealand fans.
"The other thing I remember from the game is Martin Guptill's run-out of MS Dhoni. Obviously, everyone remembers the run-out of Guptill in the final, but that one in the semi-final gets a lot of air time in New Zealand as well," he concluded.
Last Updated on November 14, 2023