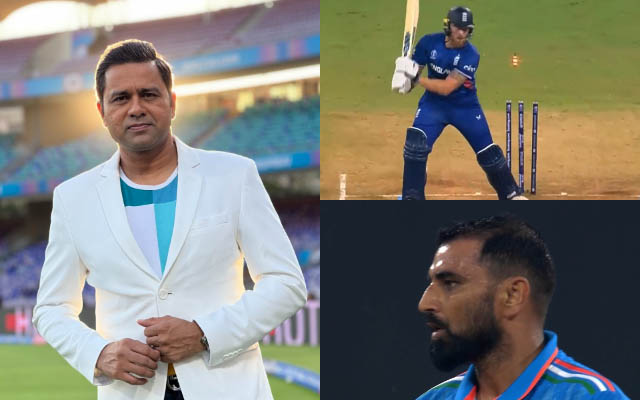 Aakash Chopra praised Mohammed Shami's exceptional four-wicket performance against England in the ODI World Cup, singling out Shami's over to Ben Stokes as the standout over of the tournament.
In the ODI World Cup 2023, England faced off against India at Lucknow's Ekana Stadium on October 29, experiencing yet another disappointing outing. India, despite setting a modest target of 229 runs, showcased their strength in bowling, with Mohammed Shami's stellar performance shining the brightest. Former cricketer Aakash Chopra, talking in JioCinema's daily sports show '#AAKASHAVANI,' lauded Shami's exceptional spell, labeling his over to Ben Stokes as the 'Over of the Tournament.'
Chopra acknowledged the initial concerns about India's relatively low total and the potential impact of dew in the later stages. However, the impeccable performance of India's fast bowlers, particularly Jasprit Bumrah and Mohammed Shami, who secured early and pivotal wickets, placed England on the back foot.
"Considering India put up a total of just 229 – it was bound to make one concerned. We also had to take into account dew being a major factor later on. But the way the Indian pacers bowled, was impeccable to see. Jasprit Bumrah and Mohammed Shami taking early and important wickets really put them on the back foot. For me, Shami's over – when he bowled round the stumps to Ben Stokes was the 'Over of the tournament'. Overall, the bowling unit worked in tandem and absolutely dismantled England's batting order," Chopra said.
Aakash Chopra also expressed his admiration for Rohit Sharma's leadership in the batting order against England.
"Rohit Sharma, yet again, led from the front and I still don't know why he isn't celebrated enough. It's hard to sustain your innings when you keep on losing wickets on the other end. But he played a very important knock. Suryakumar Yadav came in and helped stabilize the innings along with KL Rahul, who was looking in good touch as well, but a poor shot cost him his wicket," he concluded.
Last Updated on October 30, 2023