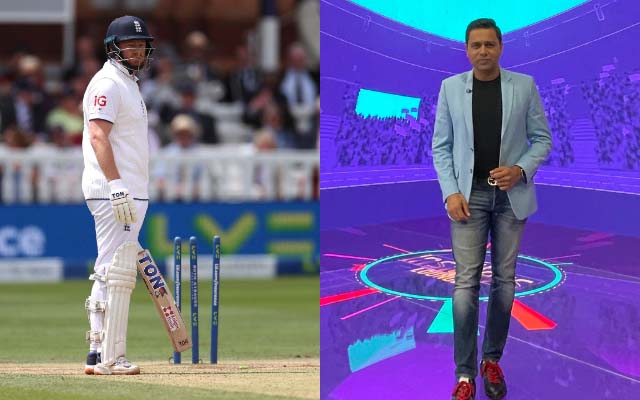 Former Indian opener Aakash Chopra didn't hold back in criticizing the English players for kicking off a controversial 'spirit of cricket' debate after the dismissal of Jonny Bairstow on the final day of the second Ashes Test at Lord's. Expressing his discontent, Chopra called out the hypocrisy within English cricket, targeting Ben Stokes, Brendon McCullum, and some former England cricketers for labeling Bairstow's dismissal as a violation of the 'spirit of cricket.'
On Day 5 of the second Test, drama unfolded as Alex Carey spotted Jonny Bairstow out of his crease after assuming the ball was dead following his duck underneath a short delivery. Carey executed a direct hit and appealed for a stumping, which was ultimately upheld by the umpires. The incident added fuel to the 'spirit of cricket' controversy, intensifying the ongoing debates surrounding fair play and player conduct.
Read Also | Ashes in Flames: A Fiery Controversy Ignites as the Umpire's Finger Falls for Johnny Bairstow
As the 'spirit of cricket' debate rages on, cricket enthusiasts have delved into the archives, unearthing videos of England's team involved in questionable dismissals. One particular clip caught the attention of fans, showing Jack Leach dismissing Henry Nicholls after the ball struck the bat of non-striker Dary Mitchell.
In a tweet, Chopra highlighted the incident, stating, "Ouch. You can even see the torchbearer of 'The Spirit of the Game' shrugging his shoulders instead of initiating the process to withdraw the appeal. After all, you wouldn't want to be remembered for things like these. Also, there are multiple videos circulating calling out their hypocrisy…including some involving the current players. English cricket's hypocrisy and the sense of entitlement is something else."
Fans also resurfaced a video from the 2013 Ashes series, showcasing Stuart Broad's refusal to walk despite clearly edging the ball in the Nottingham Test. 
As per law 20.1.2 of the MCC's Laws of Cricket, the International Cricket Council (ICC) clarified that the ball is considered dead when it is evident to the umpire at the bowler's end that both the fielding side and the batsmen at the wicket no longer consider it to be in play.
Following the incident, Australia emerged victorious, winning the match by 43 runs and taking a commanding 2-0 lead in the five-match series.
The focus now shifts to the upcoming third Test, set to commence on July 6 at Leeds, where England will be aiming to bounce back and close the gap in the series.
Watch the controversial clips here.
Ouch. You can even see the torchbearer of 'The Spirit of the Game' shrugging his shoulders instead of initiating the process to withdraw the appeal. After all, you wouldn't want to be remembered for things like these 🤣🫣🤪
Also, there are multiple videos circulating calling out… https://t.co/yR8Nq2UeVd

— Aakash Chopra (@cricketaakash) July 4, 2023
Let's watch brand Ambassador of "The Spirit of the game" Mr.@StuartBroad8 pic.twitter.com/G13nyQwXTZ

— Shubman Gang (@ShubmanGang) July 4, 2023
Last Updated on July 5, 2023