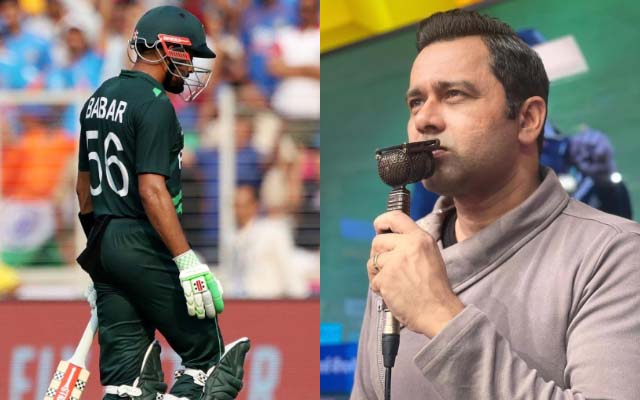 Aakash Chopra emphasized that despite being considered a superstar, Babar Azam must step up and perform in Pakistan's match against Afghanistan, as his previous performances have fallen short of expectations.
In the upcoming World Cup 2023 clash between Pakistan and Afghanistan on October 23, Aakash Chopra has called upon Babar Azam to meet the expectations befitting his superstar status. Both teams will compete in Chennai, known for its spin-friendly pitch. Pakistan, currently in fifth place on the points table with two wins out of four matches, needs Babar to step up. Chopra highlighted Babar's indifferent performances and stressed that he needs to go beyond just being a superstar; he must play the hero's role to ensure Pakistan's success in this significant event.
"Babar will have to score runs. Eventually, he has to come to the party because such a big party has been organized, and you are a superstar but haven't even played the hero's brother's role. So you will have to do it," Chopra said when speaking on his YouTube channel.
"I feel Shadab (Khan) will play in place of Usama Mir. It's possible Usama Mir also plays along with Shadab and (Mohammad) Nawaz. Go with three spinners because this pitch will demand you to go with spin. India also played with three spinners here. Ravichandran Ashwin played when the match was played on that pitch," he added.
Babar Azam's performance in the tournament has been underwhelming, with only 83 runs scored at an average of 20.75 in his four innings. Similarly, Shadab Khan has struggled with the ball, managing just two wickets and conceding an average of 6.55 runs per over in the three games he has played.
Aakash Chopra also cautioned Pakistan not to underestimate Afghanistan, emphasizing the need to take them seriously. He suggested that winning the toss and opting to bat first while aiming for a total of 250 runs would make the game more enjoyable.
He stressed that underestimating Afghanistan could be a costly mistake for the 1992 World Cup champions, stating, "Pakistan are the better team but haven't played to their potential thus far. God forbid, if you lose this match, forget it, you are gone. Shoaib Akhtar was saying that losing to India was not a problem but they shouldn't lose to Afghanistan."
Chopra believes Afghanistan's vulnerability lies in their struggle against spin, despite having a strong spin-bowling arsenal. He further noted that Pakistan's spin attack, while not exceptional, may still exploit this weakness in Afghanistan's batting lineup.
Last Updated on October 23, 2023