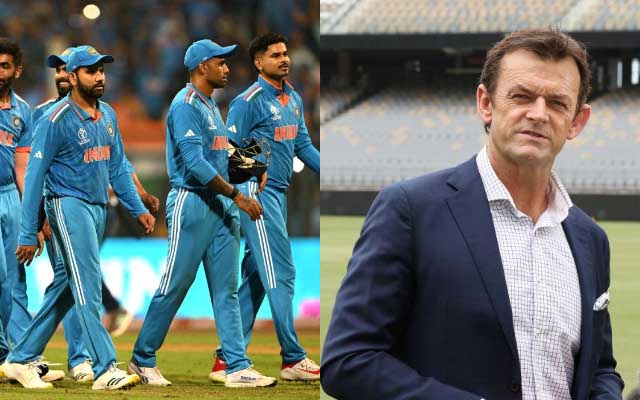 The Indian team has proven that it's a force to be reckoned with in 2023 edition of the ICC Men's Cricket World Cup. Winning all 8 of the matches they've played so far, India were the first team to qualify for the semifinals and is at the top of the points table having earned a total of 16 points for their performance this season.
In a recent discourse, Australia's former wicketkeeper Adam Gilchrist shared his analysis of the Indian team's strong points. The former World Cup winner believes that India has been powerful this season on the bowling front. In the ongoing World Cup, India's bowlers have dominated, boasting an average of 19.02 and an economy rate of 4.40. This puts them well ahead of the competition, with South Africa as the second-best team, averaging 26.01. India's economy rate is also the best in the tournament, being 0.86 runs per over better than Afghanistan, the second-placed team. This level of supremacy with the ball is unmatched in World Cup history, surpassing even Australia's 2003 performance.
Pertaining to this, Gilchrist told Fox News:
"I think firstly winning the toss and batting first, given how India have gone about their business. I don't suggest that they have a weakness in chasing. They have the greatest-ever run-chase co-ordinator in Virat Kohli."
He continued on to say:
"But the damage that the Indian bowling attack has been doing under lights, they have been lethal. Siraj, Shami, and Bumrah have been almost unplayable. It might be more conducive to bat against them in daylight.
He praised the Men in Blue on their tactful bowling. He shared his analysis of how the Indian team keeps winning due to its bowling strategy over its batting line-up, by saying:
"India have a well-balanced bowling lineup as the fast-bowling talent is beautifully married with a couple of varieties of spin. Jadeja's stats are amazing. Kuldeep Yadav is a variation that can often bamboozle any opposition."
He continued by saying:
"And then you have Ravi Ashwin sitting in the background hardly getting a go. They have always had a powerful batting line-up. But it's the potency of the bowling that's making them such a threat at the moment."
India is set to play against the Netherlands on November 12 after which they'd go on to face one amongst New Zealand, Pakistan, and Afghanistan in the semifinals on November 15.
Last Updated on November 9, 2023