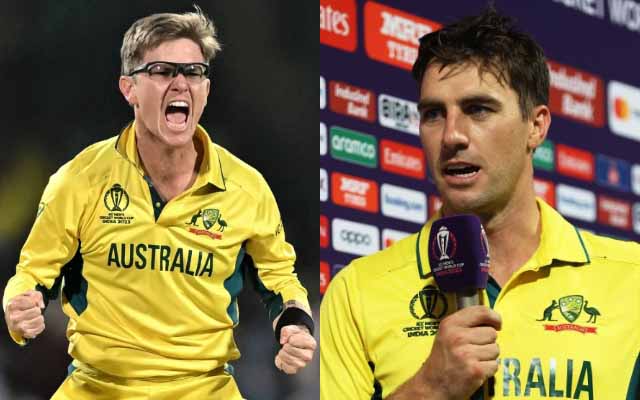 Pat Cummins and Marcus Stoinis commended Adam Zampa's outstanding performance against Pakistan, emphasizing his remarkable comeback from a two-week illness and his vital role in Australia's resurgence.
Despite grappling with physical challenges and illness, Adam Zampa showcased unwavering resolve in the match against Pakistan, earning commendation from both Pat Cummins and Marcus Stoinis. His impact was felt earlier when he secured four crucial wickets against Sri Lanka in Lucknow, and he repeated this feat in the match against Pakistan in Bengaluru on October 20. These performances played a role in Australia's resurgence, helping them recover from two initial World Cup losses.
Captain Pat Cummins expressed his satisfaction with Zampa's recent display, which proved vital in defending Australia's 367-run target at the challenging Chinnaswamy Stadium. Known for its small boundaries and a docile pitch, Zampa's deliveries led to the dismissals of Pakistan's captain, Babar Azam, and the tournament's top run-scorer, Mohammad Rizwan, effectively dashing any hopes of a successful chase.
When talking to Star Sports at the post-match presentation, Cummins praised Zampa's resilience, highlighting his capacity to take crucial wickets during the middle overs.
"Yeah, Lazarus [Adam Zampa] has been awesome. He's been in the bed for the last week or two. He was fantastic, and he just showed his class. He's a real wicket-taker in the middle. Babar Azam and Iftikhar at the end when he was going – two big wickets." said Cummins.
Marcus Stoinis praised the leg-spinner's exceptional World Cup performance, labeling it as his best showing yet. Stoinis revealed that Zampa had been battling a flu, backache, neck issues, and a sore glute before the tournament. Despite these health challenges, Zampa bowled exceptionally well in the latest game.
"I'm very happy for Lazarus (laughs). He's had a flu, he's had a sore back, he's had a bad neck and he's had a bad glute. But he's been bowling really well. This game was the best he has bowled, I reckon. So, he will rest up today and come strong tomorrow," shared Stoinis.
Last Updated on October 21, 2023