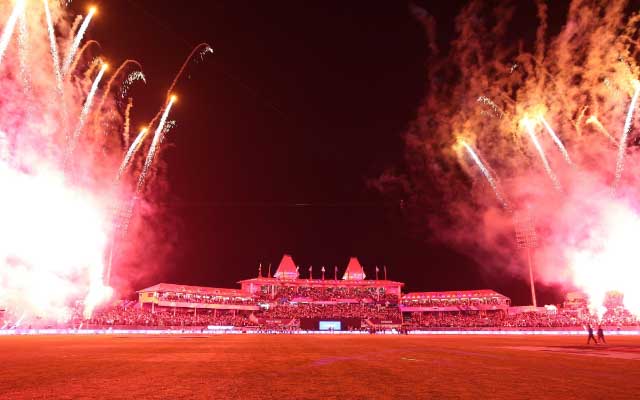 Due to increasing pollution concerns in Mumbai and Delhi, the BCCI has proactively decided to forego fireworks displays during the upcoming World Cup 2023 matches.
Given the alarming increase in pollution levels in Mumbai and Delhi, the Indian cricket board has addressed the issue by declaring that there will be no fireworks displays at the venues during the upcoming World Cup 2023 matches. This decision precedes India's match against Sri Lanka at the Wankhede Stadium in Mumbai on November 2 and Bangladesh's clash with Sri Lanka at the Feroz Shah Kotla in Delhi on November 6.
Significantly, Mumbai's deteriorating air quality spurred the Bombay High Court to take suo motu cognizance of the matter. In response to the environmental concerns, BCCI Secretary Jay Shah disclosed that, following official discussions with the ICC, a unanimous agreement has been reached to forgo fireworks displays during or after the matches in these venues.
"I took up the matter formally with the ICC and there won't be any fireworks display in Mumbai and Delhi, which can add to the pollution level. The Board is committed to combating environmental issues and will always place the interest of our fans and stakeholders at the forefront," Shah was quoted as saying by The Indian Express. 
"The BCCI acknowledges the urgent concern surrounding air quality in both Mumbai and New Delhi. While we strive to host the ICC World Cup in a manner befitting the celebration of cricket, we remain steadfast in our commitment to prioritizing the health and safety of all our stakeholders," he added.
Data from the Central Pollution Control Board (CPCB) revealed that Mumbai had a 'moderate' overall Air Quality Index (AQI) reading of 172 on October 31, spiking to a concerning 260 at the Bandra Kurla Complex. Delhi, in October, witnessed its worst air quality since 2020.
A senior BCCI representative also stressed that the decision to have fireworks-free matches in Mumbai and Delhi aimed to send a powerful message, raising environmental awareness among the public and setting an example for significant societal change.
Last Updated on November 1, 2023