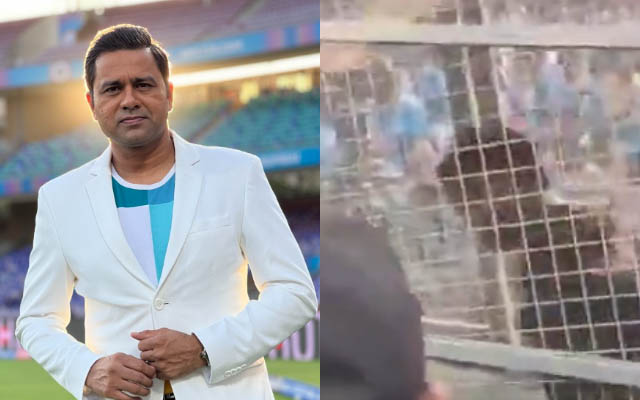 Aakash Chopra criticized Pakistani fans for spreading false narratives about Indian crowd behavior during the Ahmedabad clash, highlighting that no Pakistani players have complained about such an occurrence.
Former Indian cricketer Aakash Chopra expressed his frustration with Pakistani fans who criticized the behavior of the Ahmedabad crowd during the World Cup clash between India and Pakistan on October 14. This criticism paralleled Pakistan's team director, Mickey Arthur, claiming that the stadium's DJ played only India-related songs during the match and alleging it had an impact on Pakistan's performance due to a lack of crowd support. A viral video also depicted a section of Indian supporters chanting "Jai Shree Ram" as Pakistan's Muhammad Rizwan left the field after his dismissal.
On his YouTube channel, Chopra defended Indian fans and emphasized the need for concrete evidence or player complaints before making accusations. He also suggested that focusing on the behavior of a single individual might not reflect a broader issue.
"I haven't heard any Pakistani players speaking. Mickey Arthur was the only one to say. But if anyone among the players speaks and if you notice a certain pattern of behavior or a problem, then you might need to take a closer look at why it happened with only one guy," Chopra said.
The @TheRealPCB should raise the issue with @ICC and @BCCI about three things tonight:

– Indian fans booing Babar Azam
– Indians raising 'tumharay baap hain hum' slogans at Pakistan players
– Dil Dil Pakistan not played often in stadium

Barra dil nahin hay aap lougon ka…

— Farid Khan (@_FaridKhan) October 14, 2023
"Twenty or thirty-second snippets cannot tell the complete story. There are many people who can testify to the fact that India is a very loving and inclusive country. Anyone with an agenda is free to promote it," he added.
I think you forget "Jai Shree Ram" slogan against Mohammed Rizwan 😫pic.twitter.com/eceXmQq8lD

— Shimorekato (@iam_shimorekato) October 14, 2023
Chopra also strongly rejected claims that the home fans mistreated Pakistani players, countering Mickey Arthur's assertion about the one-sided nature of the Ahmedabad crowd during the India-Pakistan match. Arthur had expressed that the game felt more like a BCCI event than an ICC tournament, remarking that it resembled a bilateral series. In response, Chopra highlighted the substantial support Afghan players received from the Indian crowd.
READ MORE | ICC to Examine Mickey Arthur's 'Bilateral Series' Comment in India vs. Pakistan Game
Pakistan cricket legend Wasim Akram criticized team director Mickey Arthur's comments about the India-Pakistan match, calling for a focus on substantive reasons for their loss rather than "random stuff." Akram emphasized the need to discuss strategic plans instead of vague remarks.
"I don't know what to make of this statement. Tell us what your plans were against Kuldeep Yadav, that's what we want to hear, not just random stuff. Do you think you can get away with this?" said Akram, when speaking to A Sports.
India's seven-wicket victory continued their unbeaten record against Pakistan in the ICC ODI World Cup, marking the eighth consecutive win for the team in this high-profile tournament.
Last Updated on October 17, 2023