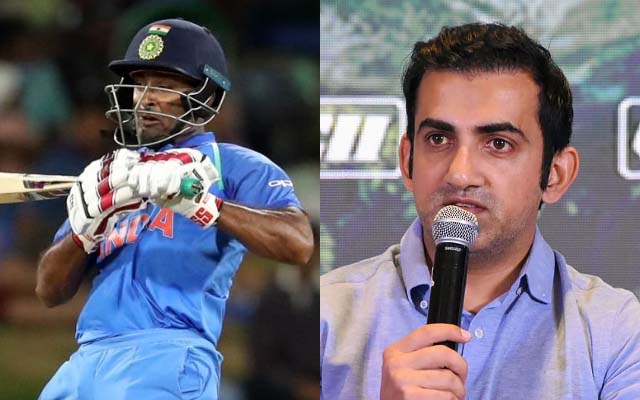 Gautam Gambhir harshly criticized the 2019 selection committee, led by MSK Prasad, labeling it the 'worst' for its decisions, particularly the Ambati Rayudu snub and the number 4 batting dilemma.
Former Indian cricketer Gautam Gambhir did not mince words as he criticized the selection committee responsible for choosing India's squad for the 2019 ODI World Cup. In particular, Gambhir focused on the decision to exclude Ambati Rayudu, who had been the preferred choice for the crucial number 4 batting position leading up to the tournament.
The sudden and seemingly unexplained exclusion of Rayudu from the World Cup squad was met with shock and led to his brief retirement from international cricket. Gambhir, while providing commentary during the India vs. New Zealand ODI World Cup 2023 match, expressed his strong disapproval. He may not have recalled the chairman of selectors at the time but squarely laid the blame on the selection committee, headed by MSK Prasad, with Devang Gandhi, Sharandeep Singh, Jatin Paranjpe, and Gagan Khoda serving as fellow selectors.
"Selection Committee of 2019 was the worst. You played Ambati Rayudu throughout the year and dropped him during the World Cup without any reason," Gambhir said when speaking on Star Sports.
Gautam Gambhir also suggested that the Indian team management might share some of the responsibility for the 2019 World Cup semifinal loss. During the live broadcast, with former Indian batting coach Sanjay Bangar seated beside him, Gambhir highlighted that the management had limited options to work with from the available squad.
Recalling the 2019 ODI World Cup semifinal, India faced New Zealand and struggled to chase down a target of 240 runs, ultimately being bowled out for 221 after an early batting collapse. The game also witnessed the unlucky run-out of MS Dhoni. This semifinal defeat was the second consecutive loss for India in World Cup semifinals, following their 2015 ODI World Cup exit, led by Dhoni.
While the Indian team had performed exceptionally in the 2023 World Cup, winning all four previous matches, they face a tough challenge in the form of New Zealand, a team they have not beaten in ICC events since 2003.
Last Updated on October 22, 2023