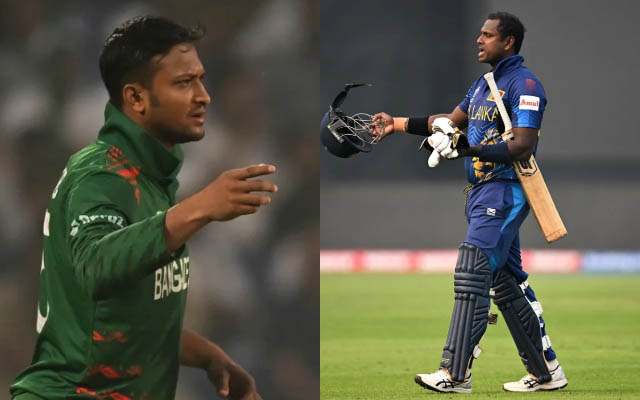 Trevis Mathews voiced out his disdain on the Bangladesh captain Shakib al Hasan, who appealed to have the former's brother removed from the field during the game between Sri Lanka and Bangladesh.
The 38th match of the ICC Men's Cricket World Cup featured an event that has never occurred before in the history of international cricket. In the clash between Bangladesh and Sri Lanka, Angelo Mathews was asked to leave the field due to the timed-out rule. The batter was misjudged to have not made it back to his position on time after the dismissal of the previous batsman, Sadeera Samarawickrama, and thus believed to have broken ICC's rule. There has never been a batter who'd been deemed 'timed-out' in international cricket until now.
"I did nothing wrong. I reached the crease in time. It was an equipment malfunction and I was not wasting time or trying to gain an advantage. Common sense should have prevailed," said Mathews in the post-match press conference.
Bangladesh's captain Shakib Al Hasan chose to appeal to the umpire on the grounds of the batter not being ready within the stipulated two-minute duration. The day after the game, a video uploaded by Angelo Mathews on social showed him making it back to his position within the allotted 2 minutes, despite him slowing down near his crease and fixing his helmet due to a malfunction in it. The decision of his removal from the game was met with harsh criticism from fans, critics, coaches, and Mathews' peers. ICC faced a flurry of backlash online for the incident.
Angelo Mathews' brother and Sri Lankan club player Trevis Mathews expressed his disdain towards the Bangladesh captain's actions by saying to bdcricktime.com, "Shakib is not welcome in Sri Lanka. If he comes here to play any international or LPL matches, stones will be thrown at him, or he will have to face the annoyance of the fans."
After losing to Bangladesh by 3 wickets and a remainder of 53 balls, Sri Lanka has been eliminated from the World Cup 2023.
Last Updated on November 8, 2023