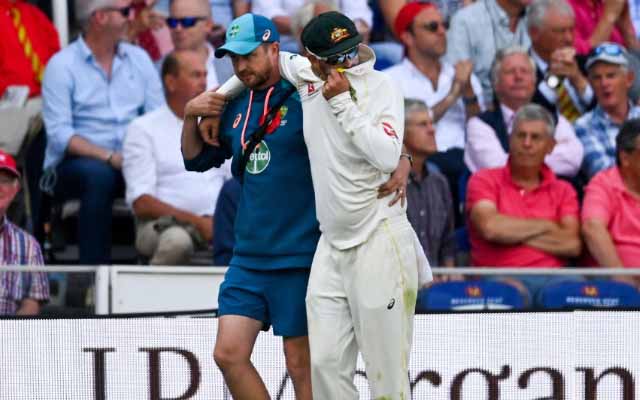 Australian cricketer Nathan Lyon's dream of featuring in the Ashes series abruptly ended as his right calf tore during the second Test at Lord's. The skipper had immediately recognized the gravity of the situation when he heard a sickening sound resembling a "little gunshot."
Playing his 100th consecutive Test, Lyon's milestone moment turned into despair as he was forced to retire hurt on day two. Despite receiving advice to the contrary from skipper Pat Cummins and medical staff, Lyon chose to bat in the second innings, exacerbating his injury further.
Lyon has returned to Australia for recovery and aims to be fit for the domestic summer in late September.
"I actually tried to get the spider-cam moved just before that ball and tried to get Chris Gaffaney the umpire to move it," Lyon said on 'The Willow Talk Podcast'.
"Then I went back and Duckett played the pull shot, got a top edge and I went to take off and I just heard this little gun shot and just felt it go straight away. I knew straight away my series was done there and then. I felt it straight in the calf. I was confident I would have caught that catch if I was able to push off my right foot."
"I remember Uzzie (Usman Khawaja) running over saying 'what's up … you got a cramp?' and I said 'nup, I've just blown my calf to bits'. The emotions set in, then I sat in the changerooms for the next three and a half days."
While recovering in the pavilion, Nathan Lyon found it challenging to witness the unfolding events of the Test match. To distance himself from the action, he sought solace in the umpires' room, watching the British Formula One grand prix.
Despite his injury, Lyon managed to contribute crucial 15 runs alongside his close friend Mitchell Starc, a partnership that proved vital in their eventual 43-run victory.
"I went to the ground, spoke to the medical team in the morning, they said 'nah, you're not batting', so I went to Pat (Cummins) and Pat said 'you're not batting, Gaz, get it out of your head."
"I went to Ron (McDonald) and said 'I am batting' and he goes 'good, I'm thinking the same thing.' So Andrew McDonald was the one who said yep, and I said 'I need you to talk to the medical team', so he went to talk to the medical team. I knew the risks, I couldn't it any worse.
If it was a minor tear, I probably wouldn't have gone out to bat understanding we had a decent break and may have missed the third Test and be right for the fourth and fifth Tests. But I knew I was out for the next 10-12 weeks, so I took a couple of tablets, got strapped from my knee down, couldn't move my foot at all and hobbled out, stood in the Long Room and waited to bat," recalls Lyon when talking to Cricket.au.
Since making his Test debut in 2011, Nathan Lyon has not experienced a soft-tissue injury, but he cannot provide a definite recovery time for his calf tear. However, considering his age and the tendency of such injuries to become chronic, he won't rush his return to the field, even though New South Wales' first Marsh One Day Cup commitment is just 10 weeks away.
Last Updated on July 18, 2023