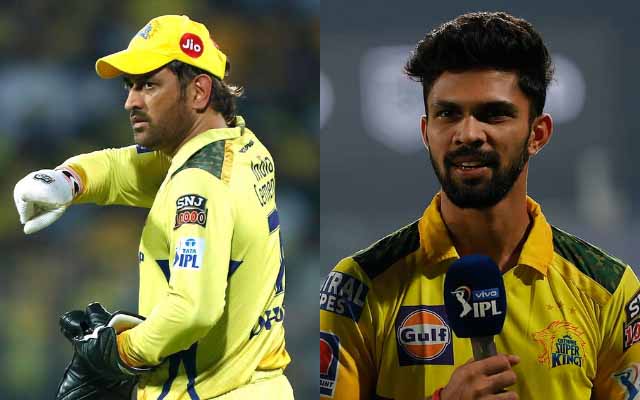 Ruturaj Gaikwad, set to lead the Indian men's cricket team in their inaugural Asian Games appearance in China, draws inspiration from MS Dhoni while aiming to stay true to his own unique style of leadership.
After four years of playing under MS Dhoni's leadership at Chennai Super Kings, Ruturaj Gaikwad has absorbed valuable leadership skills. Now, as he prepares to captain the Indian cricket team for the first time at the Asian Games in Hangzhou, China, Gaikwad plans to blend his own leadership style with the lessons he's learned.
India, due to their high ranking in men's T20I, enters the competition in the quarterfinals and stands as the frontrunner to clinch the gold medal.
"I got to learn a lot of things from him but every person has a different style. His style is different, his personality is different and my personality is a bit different," Gaikwad said.
"I will try to be myself and not really look at what he usually does. Obviously, yes you have to pick out some things which he does really well, how he handles situations and how he handles particular players during a match. Obviously, these are (a) few things I really took from him, but I would like to lead the way I want to. I just want the players to express themselves and give how much ever freedom that I can," he added.
Just three weeks ago, the Indian women's team achieved a historic milestone by securing a gold medal at the Asian Games, triumphing over Sri Lanka in the final match.
"In cricket, we have the World Cup, the IPL and domestic tournaments. We are used to that kind of environment and situations. But coming here and going to the village, we really got to know about the athletes what kinds of struggle they go through," Gaikwad said.
"Hardly 2-3 years or four years they get an opportunity to play for the country and represent it. We took a lot of pride from yesterday's visit (to the Games' village) and obviously got to know how special it is obviously we do know but it just reflected a little bit more to represent the country," he added.
The Indian cricketers have been enthusiastically observing their compatriots competing in diverse sports like badminton, tennis, and hockey at the Asian Games. Gaikwad expressed immense pride in supporting Team India in different disciplines and stated that they thoroughly relished the experience of cheering for their fellow athletes.
The dimensions of the cricket ground in the Asia Cup have garnered attention, especially when Nepal set numerous records in a group match against Mongolia. Gaikwad mentioned that cricketers are accustomed to such ground dimensions, whether in domestic cricket or any other format, over the course of their careers.
"Growing up, usually playing on these kind of grounds and even (in) local cricket, many games, more than 100 games on these kind of grounds. I am sure everyone is used to it and will adapt," said Gaikwad.
VVS Laxman, accompanying the squad as coach, described the novel cricketing encounter in China, highlighting its distinctiveness. He expressed surprise at the prospect of playing cricket in China, emphasizing the tremendous opportunity and pride associated with participating in the Asian Games for the entire team, and eagerly anticipated the tournament ahead.
Last Updated on October 2, 2023