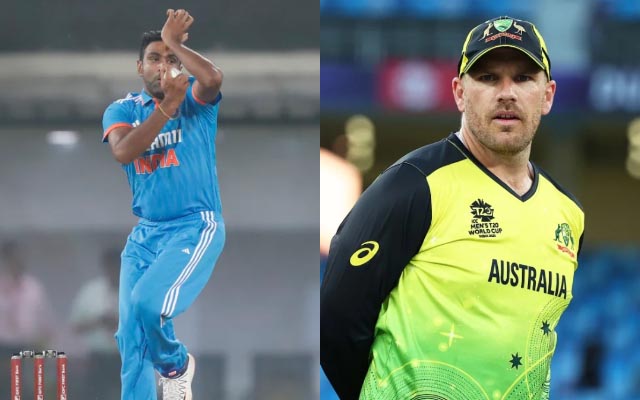 Former Australian Captain Aaron Finch believes that while India might consider including R Ashwin as a mentor due to his extensive experience, his chances of securing a spot in the 15-member ODI World Cup squad appear slim.
Aaron Finch has delivered a significant verdict on Ravichandran Ashwin's prospects of securing a spot in India's ODI World Cup squad. With the deadline for World Cup team submissions imminent, the recent quadriceps injury to Axar Patel has created a potential pathway for Ashwin to stage a dramatic last-minute entry into India's World Cup roster. Axar's injury, sustained during the Asia Cup, led to his absence in the tournament's final and the first two ODIs against Australia. Nonetheless, the BCCI is actively monitoring his medical progress, leaving room for optimism regarding his World Cup fitness. If Axar fails to pass the fitness test, the BCCI may consider Ashwin as a replacement.
Finch acknowledged that Ashwin's inclusion in the World Cup squad would be challenging, but he underlined that Ashwin's presence in the current Australia series could offer valuable assistance to fellow players.
"I think he might struggle to make it to the final 15, but as somebody who has played so much cricket, I think the rest of the group that is with the Indian team for this current series against Australia, they could learn so much about big game play," Finch said when talking on Star Sports.
"Because Ashwin is somebody that stands up in big games, whether it's a test match or a T20 game, he has done it all throughout his career. So I wouldn't be surprised if he's there at the moment as a mentor around the group, but I don't see him making that last 15, unfortunately," he added.
Finch further identified the standout pacers to watch out for in the upcoming ODI World Cup, singling out India's Mohammed Siraj alongside three other elite fast bowlers. He expressed his admiration, stating, "I think Trent Bolt, Mitchell Starc, and (Kagiso) Rabada, these guys, especially (Mohammed) Siraj, he's as good as anyone in the world at the moment."
Last Updated on September 26, 2023