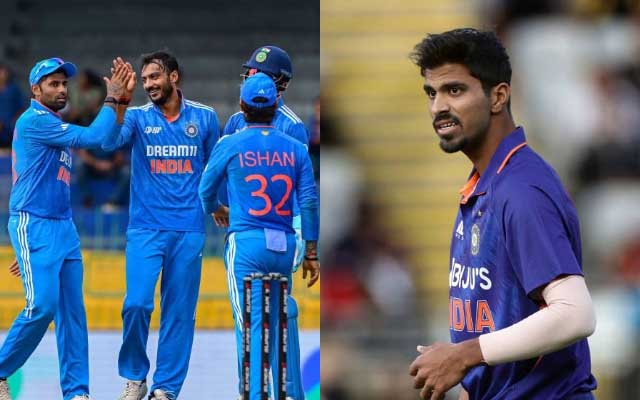 Washington Sundar, the Indian all-rounder who recently secured victory for South Zone in the Deodhar Trophy Final, has arrived in Colombo to join the team in preparation for the Asia Cup Final against Sri Lanka on Sunday.
India's cricket all-rounder, Washington Sundar, has jetted off to Sri Lanka, where he'll bolster the Indian squad in Colombo ahead of the Asia Cup Final. Sundar will be stepping in for Axar Patel, who sustained injuries during India's dramatic Super 4 showdown with Bangladesh.
Washington Sundar bumped into me at the airport

Guess where he's off to Twitter ???

🤔🤔🤔

— DK (@DineshKarthik) September 16, 2023
During that intense match, Axar Patel displayed remarkable resilience despite suffering injuries to both hands and donning a heavily strapped thigh while at the crease. He emerged as India's last glimmer of hope in a nail-biting pursuit against Bangladesh. Axar's valiant effort saw him face 34 balls and accumulate 42 runs, valiantly fighting a lone battle in the final overs. However, his efforts weren't enough to secure victory for India, as he was dismissed in the penultimate over while attempting a crucial six against Mustafizur Rahman.
This call-up presents a promising opportunity for Washington Sundar, whose burgeoning career with the Indian cricket team has been consistently hindered by various injuries. Among the setbacks he has encountered, a notable one was the splitting of his webbing on his bowling arm. In the latest developments, Axar Patel's availability for the upcoming match remains uncertain, as his injuries to the wrist (his bowling hand) and elbow have cast doubt on his place in the playing XI.
In contrast, Washington Sundar arrives with fresh momentum following his recent triumph in the Deodhar Trophy, where he played a pivotal role in securing victory by claiming three crucial wickets in the final against East Zone while defending a challenging total of 239 runs.
The Indian lower-middle order's performance leading up to the 2023 World Cup has been wanting. If chosen, Sundar could enhance this critical aspect. The captain and coach previously emphasized the bowling unit's need to contribute with the bat. Sundar's selection over Chahal and Ashwin underscores this strategy to bolster batting depth.
Last Updated on September 16, 2023