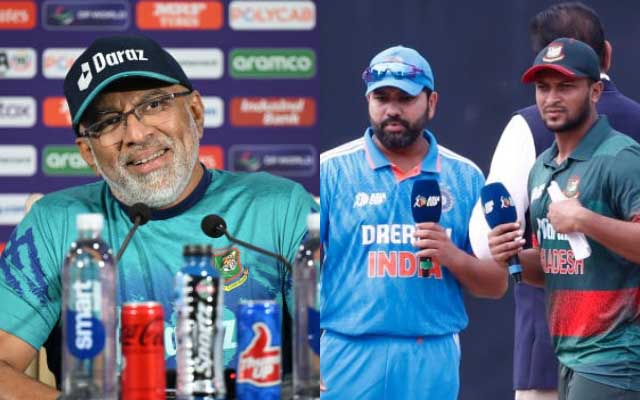 Bangladesh coach Chandika Hathurusingha remains optimistic about ending India's winning streak in the 2023 ODI World Cup, emphasizing the need for a "complete game" and their potential to compete.
As Bangladesh prepares for a crucial ICC Men's ODI World Cup 2023 encounter against India in Pune, coach Chandika Hathurusingha remains focused on the present rather than historical records. Hathurusingha stressed the importance of delivering a "complete game" against the hosts, downplaying past records. While India has dominated in three out of four past World Cup meetings, Bangladesh's sole victory over India in this tournament dates back to 2007.
Notably, recent performances offer optimism for Bangladesh. They secured a 2-1 ODI series win against India earlier in the year and clinched a close 6-run victory over India during their most recent encounter in the Asia Cup, although it came as a consolation win after their early exit from the tournament.
"We have had success in the recent past against India, but then when you come to the World Cup it's a very different game altogether. As I said, we are hoping that we will have a complete game against them, that we need to perform to our potential and India is probably the in-form team this World Cup and if they have not so good game and if we play to our potential, I think it's going to be a good game for us and we are capable of doing that. We have proved that confidence and that memory are going to serve us well to start [well] at the start. So, we need to start well," said Hathurusingha.
"We haven't put up a complete batting performance, or to that matter, complete performance with the ball and bat so far. So, we are expected to do a complete performance. And we know that when we play as a team and we perform to our capabilities and we have beat big teams. We have done well in the past. So, I think fingers crossed, we are due for one of those days," he added.
The Bangladesh coach was asked whether past victories against India in the 2007 World Cup and the 2016 T20 World Cup would inspire his team for the upcoming match. However, he emphasized that the very act of playing for Bangladesh serves as inspiration for his players. Hathurusingha mentioned that the recent surprising upsets in the World Cup, such as Afghanistan and Netherlands defeating strong teams, have motivated his squad.
With the tournament now wide open, Bangladesh aims to win all of its remaining six games, keeping the team highly motivated and inspired for the forthcoming match against India.
Last Updated on October 19, 2023