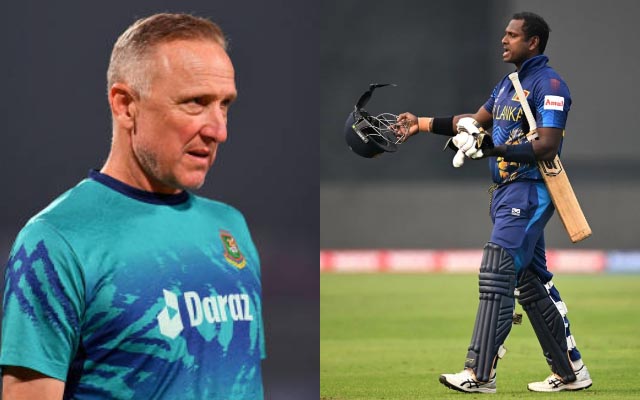 Coach Allan Donald voiced out his dismay of the decision which required Angelo Mathews to depart the field mid-play as the latter was adjudged to have broken ICC's rules and failed to get to his crease in the required time. 
During the 38th match of the ICC Men's Cricket World Cup at the Arun Jaitley Stadium on November 6, Sri Lanka clashed with Bangladesh. Cricketing legend Angelo Mathews faced a timed-out dismissal during the 25th over for not reaching his position within the required 2 minutes after the dismissal of Sadeera Samarawickrama by Shakib Al Hasan. Despite the Bangladesh captain's appeal, the decision remained, forcing Mathews to leave the field after facing only one delivery.
Speaking to CricBlog.Net, Bangladesh Coach Allan Donald expressed his dismay of the decision, saying, "It was disappointing to see. I can understand Shakib taking his chance. His words were 'I was doing everything to win'. You can sense in my voice that I don't like it… I don't like that sort of thing. It was really difficult to watch that unfold – one of Sri Lanka's all-time greats walking off the field without a ball bowled to him being given out for time. That's where I stand on that."
He continued on emphasise his contempt and shared his hopes of ICC's administration ensuring that the incident remained an isolated one by saying, "You talk about the respect and the dignity for each other and for the game, the spirit of the game. I just don't want to see things like that. That's just me. I just don't want to see that sort of thing in our game where, okay, someone was sharp out there and said 'well, you can appeal'. I was like, 'really – this is not going to happen, this cannot be happening, this can't be happening."
The day after the match, Mathews took to social media to share a timed recording of his time on the field. The video proved that he took less than 2 minutes to get to his position. The decision of his removal was met with harsh criticism from coaches, cricketers and commentators of the field. This is the first time such an event has happened in international cricket. Bangladesh successfully chased down 280 runs, winning by three wickets with 53 balls to spare. As a result, Sri Lanka's chances in the ICC Men's World Cup 2023 have ended.
Last Updated on November 8, 2023