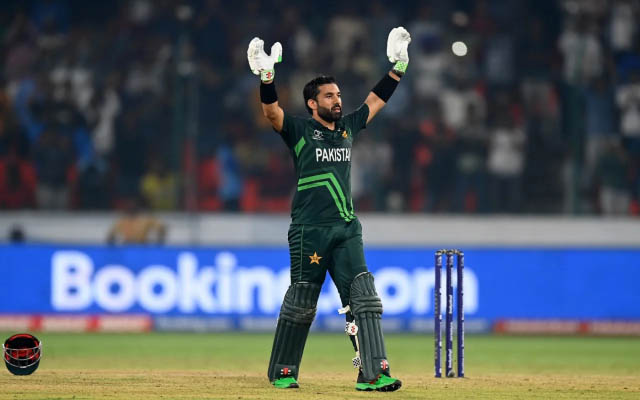 Mohammad Rizwan, after his brilliant 131* in a historic chase, expressed his delight at the overwhelming fan support in Hyderabad, noting that it made him feel as if he were playing in front of a Rawalpindi crowd.
Throughout their two-week stay in Hyderabad, the Pakistani cricket team has been the recipient of warm hospitality, generating a flurry of photos and videos on social media. The initial match against the Netherlands, held at the Rajiv Gandhi International Stadium in Uppal, drew a modest crowd of around 9,000 spectators. Subsequent games, notably the New Zealand vs. the Netherlands match on the 9th, saw even fewer attendees.
However, the scenario dramatically shifted during the third ICC World Cup 2023 match when Hyderabad came alive, witnessing a significant increase in the number of spectators, with the stadium accommodating 24,191 fans for the Pakistan vs. Sri Lanka encounter.
The high-scoring contest, with nearly 700 runs amassed on a remarkable pitch, contributed to the growing excitement. Despite the absence of Pakistan fans due to visa delays, Hyderabad rallied behind the Pakistan players, creating a unique atmosphere.
While videos circulating on social media capture chants like "Jeetega bhai, Jeetenga, Pakistan Jeetega," it's crucial to note that the latter part of the chant primarily echoed the DJ's call in response to the initial chant.
During the post-match press conference, Rizwan rightly noted that the crowd had been supportive of good cricket, applauding both teams. When Kusal Mendis and Sadeera Samarawickrama were putting on a thrilling show earlier in the day, helping Sri Lanka reach 344, the crowd passionately backed the Sri Lankans, erupting in applause for each of Mendis' six sixes.
Rizwan, the player of the match for his remarkable 131* in a historic chase, cherished the crowd's involvement, describing it as a feeling akin to batting in Rawalpindi rather than Hyderabad.
"I felt like I was playing in front of the Rawalpindi crowd; our ground in Lahore is big, and a lot of people come there. This ground felt like Rawalpindi. The way the crowd showed love today, and not just for me but for the whole Pakistan team, and they even supported Sri Lanka. I am happy that the crowd in Hyderabad has supported cricket, both Sri Lanka and us. I had a lot of fun with them," said Rizwan.
Two early wickets created pressure during the chase. Mohammad Rizwan and Abdullah Shafique aimed for a target of at least 100 runs in 20 overs to turn the tide.
"Unfortunately, 2 wickets fell early in the chase, and there was pressure. Abdullah Shafique and I had it in our minds that we would score at least 100 in 20 overs or somehow get ourselves to 100. So when they attacked, and we were trying to take Sri Lanka deep and somehow put pressure back on them," the batter added.
Rizwan has been in excellent form, notching his fifth fifty-plus score in just six games, further solidifying his remarkable performance.
With Saud Shakeel stepping up in the first match and Abdullah Shafique, a relatively new face in ODIs, replacing Fakhar Zaman, Mohammad Rizwan lauded the latter's composure and remarkable century under pressure. Rizwan shared insights into their partnership, emphasizing a well-thought-out approach. Despite Babar Azam's early dismissals and Imam ul Haq's struggles, Rizwan efficiently guided the young players, showcasing strong leadership and communication.
As the World Cup 2023 stint in Hyderabad concludes, Pakistan departs for Ahmedabad, where they will face India in their third, and perhaps most significant, match.
Last Updated on October 11, 2023