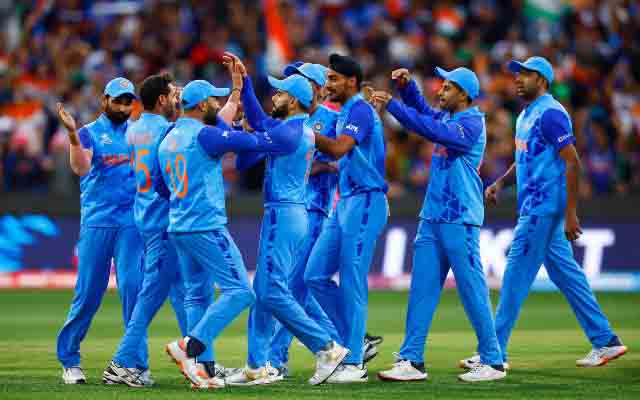 Excitement awaits cricket fans as BCCI's Tours, Fixtures and Technical Committee have officially disclosed the dates and venues for the upcoming 2023-24 home season.
According to the chart, India's Senior Men's team is set to participate in a total of 16 International matches, comprising 5 Tests, 3 ODIs, and 8 T20Is. The committee, comprised of distinguished members including Mr. Amitabh Vijayvargiya, Mr. Jayendra Sahgal, and Mr. Hari Narayan Pujari, meticulously selected the venues under the BCCI's venue rotation policy.
The home season will kick off with India hosting Australia for a three-match ODI series, building up the excitement ahead of the marquee ICC Men's Cricket World Cup. The ODI series will be held across three venues, namely Mohali, Indore, and Rajkot. Following the conclusion of the 50-over World Cup, India will take on Australia once again in a five-match T20I series.
The new year will see Afghanistan embarking on its maiden white-ball bilateral tour to India.
As the dust settles on the white-ball encounters, the focus will shift to the red-ball format. India is set to host England for a five-match Test series, commencing on 25th January 2024, across multiple venues, including Hyderabad, Vizag, Rajkot, Ranchi, and Dharamsala. 
Find the full schedule here:
Australia tour of India – 3 ODIs
FROM / TO
Mon
18-Sep-23
Thu
28-Sep-23
Format
0-3-0
India
S. No.
Date (From)
Date (To)
Time
Match
Venue
1
Fri
22-Sep-23
1:30 PM
1st ODI
Mohali
2
Sun
24-Sep-23
1:30 PM
2nd ODI
Indore
3
Wed
27-Sep-23
1:30 PM
3rd ODI
Rajkot
Australia tour of India – 5 T20Is
FROM / TO
Tue
21-Nov-23
Mon
04-Dec-23
Format
0-0-5
India
S. No.
Date (From)
Date (To)
Time
Match
Venue
1
Thu
23-Nov-23
7:00 PM
1st T20I
Vizag
2
Sun
26-Nov-23
7:00 PM
2nd T20I
Trivandrum
3
Tue
28-Nov-23
7:00 PM
3rd T20I
Guwahati
4
Fri
01-Dec-23
7:00 PM
4th T20I
Nagpur
5
Sun
03-Dec-23
7:00 PM
5th T20I
Hyderabad
Afghanistan tour of India – 3 T20Is
FROM / TO
Tue
09-Jan-24
Thu
18-Jan-24
Format
0-3-0
IND
S. No.
Date (From)
Date (To)
Time
Match
Venue
1
Thu
11-Jan-24
–
1st T20I
Mohali
2
Sun
14-Jan-24
–
2nd T20I
Indore
3
Wed
17-Jan-24
–
3rd T20I
Bengaluru
England tour of India – 5 Tests
FROM / TO
Sat
20-Jan-24
Mon
11-Mar-24
Format
0-0-5
IND
S. No.
Date (From)
Date (To)
Time
Match
Venue
1
Thu
25-Jan-24
Mon
29-Jan-24
–
1st Test
Hyderabad
2
Fri
02-Feb-24
Tue
06-Feb-24
–
2nd Test
Vizag
3
Thu
15-Feb-24
Mon
19-Feb-24
–
3rd Test
Rajkot
4
Fri
23-Feb-24
Tue
27-Feb-24
–
4th Test
Ranchi
5
Thu
07-Mar-24
Mon
11-Mar-24
–
5th Test
Dharamsala
Last Updated on July 25, 2023