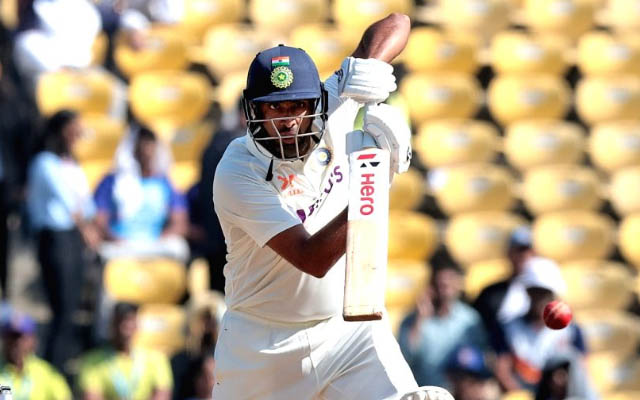 During the Nagpur Test against Australia, R. Ashwin disclosed that he narrowly avoided being timed out, as the umpire informed him that a delayed arrival could have led to an out if Australia had appealed.
The controversial "timed-out" dismissal, thrust into the spotlight by Angelo Mathews during the 2023 World Cup, has been sparking heated debates all around. Ravichandran Ashwin, discussing the topic on his YouTube channel, recounted his encounter with the rule.
In the Nagpur Test against Australia, entering as a nightwatchman, Ashwin deliberately delayed his walk to the crease, aiming to conclude the day. The umpire later informed him that had Australia appealed, he could have been timed out due to entering late.
"In the Nagpur Test against Australia, I went in as the nightwatchman in the first Test. I wanted to go slowly, so that would be the last over of the day and it would be stumps. But then, the umpire told me, "You came to the crease a bit late. Do you know that if they [Australia] have appealed, I would have given you out?" I was really shocked," he said.
Ashwin, addressing the Mathews incident, emphasized that neither Mathews nor Bangladesh's captain, Shakib Al Hasan, should be blamed. He highlighted the discrepancy in awareness of the rule, with one party knowing it and the other not.
"Mathews was really upset when he got out. Rightly so, I mean no one should get out like that, right? Everybody will feel bad when that happens. Not many teams will have the awareness to appeal for that. So, it looks like one is right and the other is wrong in this matter. But in this situation, both of them are right," he said.
"Both Shakib and Angelo are right here. One person knew what the rule was. The other person said that even though it was in the rule, he [Mathews] just asked if he [Shakib] could let it go since it was due to helmet malfunctioning. They shouldn't make it a matter of warfare between two nations," Aswin concluded.
READ MORE | Angelo Mathews Timed Out in World Cup Match; Dismissal Sparks Controversy
Last Updated on November 10, 2023