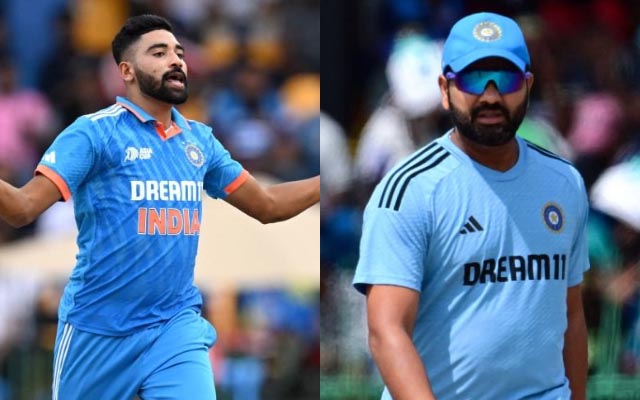 After bowling seven consecutive overs in the Asia Cup Final against Sri Lanka, Rohit Sharma revealed a fascinating dressing room anecdote where he received a message to halt Siraj's bowling spell.
In the Asia Cup 2023 final, held at Colombo's R Premadasa Stadium, Mohammed Siraj showcased his exceptional prowess as he wreaked havoc on the Sri Lankan batting lineup. Despite losing the toss and expressing a preference for batting first due to the dry pitch, skipper Rohit Sharma's decision took a backseat as history unfolded.
Siraj, the 29-year-old pacer from Hyderabad, demonstrated remarkable skill in swinging the ball even on a seemingly flat surface. He emerged as India's spearhead, orchestrating their charge against the co-hosts. Siraj's brilliant right-arm pace yielded a magical spell of 6/21 in just seven overs, leading to Sri Lanka's dismal collapse for a mere 50 runs—a historical low in their ODI records.
READ MORE | Mohammed Siraj's Spectacular Over: 4 Wickets in 6 Balls in the Asia Cup 2023 Final Propels Him to 50 ODI Wickets
Rohit Sharma, stationed in the slip cordon, relished every moment of Mohammed Siraj's remarkable spell. Siraj, exhibiting relentless determination, showed no signs of slowing down even after delivering an uninterrupted seven-over barrage. Rohit, as the captain, had the desire to see Siraj continue his impressive performance, but an authoritative directive emerged from the dressing room, echoing the words, 'Stop Siraj.'
Addressing the post-match press conference in Colombo on Sunday, Rohit Sharma shed light on this intriguing episode. He commended the collective effort of his team, saying, "It was pleasing to watch from slips. The guys were running hard and bowling quick. All three pacers bent their backs really, and Siraj got to move the ball a lot more than others. But everyone can't be a hero every day. Every different day, a different hero will stand up. And it was Siraj's day."
Reflecting on the situation where Siraj had bowled seven consecutive overs, Rohit shared, "He bowled 7 overs in that spell. 7 overs are a lot. I wanted him to bowl, but I got a message from our trainer that we need to stop him. He was quite desperate to bowl, but that's the nature of any bowler or batter. When they see the opportunity, they want to pounce on it. But that's where my job comes in, and I wanted to make sure everything stays calm and doesn't over exaggerate," Rohit Sharma elaborated during the press conference following the match.
READ MORE | Asia Cup 2023: Mohammed Siraj's Hilarious Boundary Chase Leaves Kohli and Shubman Gill in Fits of Laughter
Siraj had already demonstrated his ability to bowl extended spells in ODIs prior to this occasion. In January, during the final ODI of a three-match series in Thiruvananthapuram, he dismantled the Sri Lankan batting lineup, swiftly claiming four crucial wickets.
"That's the call. I remember he was in a similar situation against Sri Lanka in Trivandrum. He had taken 4 wickets and he had bowled some 8-9 overs on the trot, I think," the skipper recalled.
Last Updated on September 18, 2023