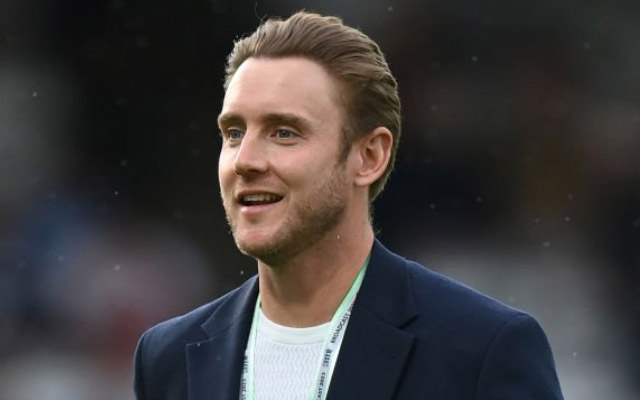 The legendary England fast-bowler Stuart Broad, firmly believes that India is the clear front-runner to win the 2023 Men's ODI World Cup, emphasizing that if the hosts execute their game plan flawlessly, they will be nearly unstoppable.
India's last Men's ODI World Cup victory came in 2011 as co-hosts and prior to that in 1983 in England. Since their 2013 Champions Trophy triumph, global titles have remained elusive. Stuart Broad, the iconic England fast-bowler, believes India is the overwhelming favorite for the 2023 Men's ODI World Cup, highlighting their potential to be unstoppable if they execute their plan. The recent trend of host nations winning the last three World Cups, coupled with India's Asia Cup victory last month, has sparked optimism. India begins their 2023 World Cup campaign against Australia on October 8 in Chennai.
Broad, in his Sunday Daily Mail column, pointed out that recent World Cup history indicates a clear trend of host nations thriving: India won in 2011 while hosting, Australia emerged victorious in 2015 when the final was held there, and England clinched the title in 2019 as hosts. This pattern alone, Broad emphasized, makes India a strong contender for the upcoming World Cup, earning them the label of "huge favorites."
"If England manage to retain their World Cup title, it will be a phenomenal effort but my overriding feeling is that if India play their perfect tournament, they are going to be very difficult to stop. Jos Buttler certainly has the team to challenge, one with the ability to post high totals, but I just think India, as hosts and the top-ranked ODI side, will be a hugely difficult proposition to get past," he added.
Broad, who participated in the 2011 Men's ODI World Cup, believes that England, the defending champions, may face a challenging situation due to their frequent travel between Indian cities for matches.
He noted, "Contrast to England. Without sounding like I am giving them excuses, they have got a pretty tough draw, to be honest. They do not play two games in the same location, instead traveling from city to city. Others have the luxury of being able to book somewhere for a week and play two games. They do not. But the fact every team plays everyone else in the round-robin stage means England would be absolutely distraught not to make the semis and final."
Broad also envisions that New Zealand, two-time runners-up, and Pakistan, champions in 1992, possess the potential to secure spots in the 2023 World Cup semi-finals. He emphasized Pakistan's formidable bowling lineup, packed with natural wicket-takers, and highlighted players like Babar Azam as valuable assets in the batting department.
"As for the other semi-finalists? Pakistan will be a threat. Their bowling is full of natural wicket-takers and is their huge strength. In players like Babar Azam, they have some high-quality batters but Haris Rauf and Shaheen Shah Afridi can blow opponents away. I'd then probably say New Zealand over Australia. Why? Because New Zealand are the ultimate tournament team. Put their team sheets next to each other and you'd always lean towards the Aussies with Steve Smith, David Warner, Pat Cummins, Mitchell Starc, but New Zealand just find a way," he added.
Last Updated on October 2, 2023