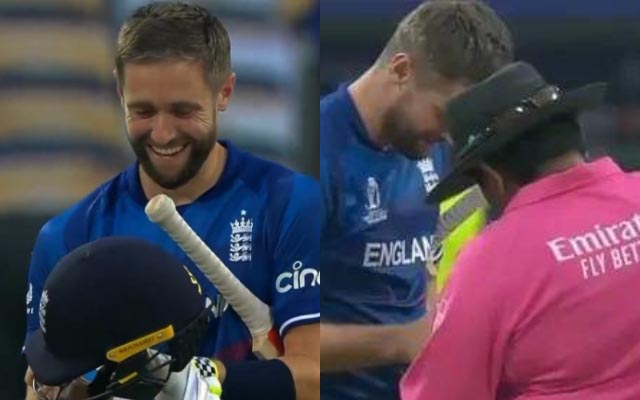 Chris Woakes cautiously informed the umpire of his faulty helmet during England's game against the Netherlands to not take any chances of being 'timed out'.
Malfunctions seem to be eminent in the 2023 edition of the ICC Men's Cricket World Cup, as yet another cricketer faced one during the match on November 8 between England and Netherlands. When English cricketer, Chris Woakes was due to bat in the 36th over of the first inning, he chose to play it safe by informing the umpire beforehand of his faulty helmet. Days before this, international cricket had its first time in timing out a batsman for not reaching the crease within the allotted time during the season's 38th match, wherein Srilankan cricketer Angelo Mathews was timed out for the same.
The precaution taken by Woakes generated a flurry of trolling on social media. Fans of the game shared memes relating to local pop culture, whilst criticizing ICC's inaccurate decisions in the same breadth.
One fan took to X to write:
"Chris Woakes being smart. Angelo Mathews wasn't smart despite having lots of experience."
Whilst many followers of the game believed that ICC should have been more prudent in their decision to remove the Srilankan batsman off the field, others admired the Englishman's actions and emphasized the need for cricketers to respect umpires.
A post on X about the same read: "Chris Woakes spoke directly to the umpire after a helmet problem to avoid being 'timed out'. That is how a gentleman respects Umpires & time unlike #AngeloMathews the hypocrite."
England secured a commanding victory over the Netherlands with a substantial margin of 160 runs, thanks to the outstanding performance of their spinners, Moeen Ali and Adil Rashid, who each took three wickets. This triumph has put England in a position to contemplate their potential qualification among the top eight teams in the World Cup, offering them an opportunity to compete in the 2025 Champions Trophy.
Here are the other reactions for Fans:
Last Updated on November 9, 2023