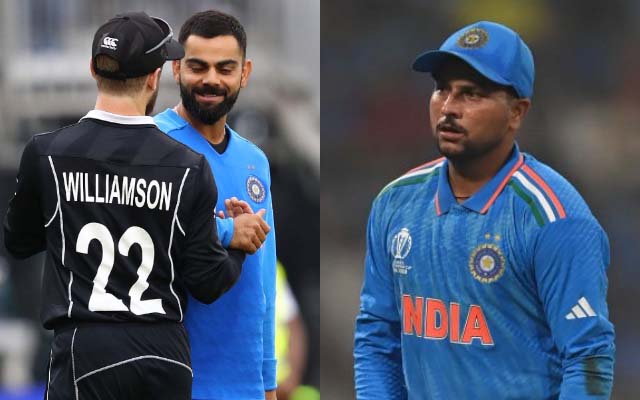 Looking ahead to the ICC Cricket World Cup 2023 semifinal against New Zealand, India's Kuldeep Yadav remains unfazed by past records, emphasizing that the 2019 encounter is four years behind them.
In the 2019 ODI World Cup, India's stellar group stage performance was marred by a heartbreaking loss to New Zealand in the semi-final, thanks to a rain-interrupted match on the reserve day. Fast forward to 2023, and India is once again leading the charts, winning all nine matches in the league stage. Set to face New Zealand in a semi-final rematch, the Kiwis have been India's nemesis in global events, adding to the disappointment of 2019. However, under Rohit Sharma's captaincy, India is optimistic, having already bested New Zealand in the league.
When speaking to the press on Sunday, November 12th, spinner Kuldeep Yadav downplayed the past, citing extensive bilateral experience and solid preparation as India gears up for the crucial match. India's triumphant run in the World Cup spans nine matches, with Kuldeep playing a pivotal role by securing 14 wickets at an impressive economy of 4.15.
"The 2019 semifinals was four years ago. We have played a lot of bilateral series after that, so we know the conditions (in India) and so do they. Our preparation has been good and we have been able to play good cricket throughout the tournament. So, we expect to continue in the same vein in the next match as well," Kuldeep said.
"I just work on my rhythm and strengths and focus on how batsmen are trying to play me. My aim is to land the ball on the good length area as much as possible. I just keep focusing on the process rather than on wickets. Hopefully, it will work in the next match also," he added.
As the face-off with New Zealand looms at Mumbai's Wankhede Stadium, known for favoring batsmen, Kuldeep also acknowledged the importance of early breakthroughs with the new ball, recognizing the strategic significance in a venue where batsmen typically dominate.
"It is a difficult venue to bowl. The bounce is true and batsmen often dominate there. Unlike in T20, of course, the bowlers have plenty of time to come back into the game. But yes, you need a couple of early wickets to get on top of the game and opponents," he concluded.
Last Updated on November 13, 2023