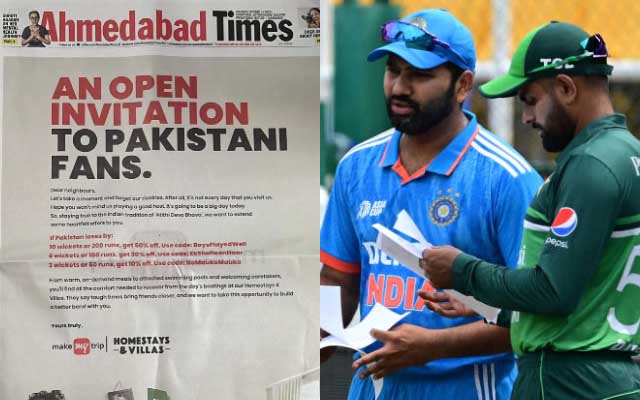 Make My Trip ignites controversy by advertising discounts of up to 50% in the Ahmedabad Times paper, for Pakistani fans if their team loses to India in the 2023 World Cup .
The highly anticipated India-Pakistan clash at the 2023 ICC ODI World Cup has created a buzz of excitement in both nations and the cricketing world at large.
Adding to the excitement, travel company Make My Trip introduced a bold and somewhat controversial offer. Their advertisement in the Ahmedabad Times newspaper targeted fans from Pakistan. It promised discounts of up to 50% based on Pakistan's performance. If Babar Azam's team lost by 10 wickets or 200 runs, fans could enjoy a 50% discount on their hotel bookings. A loss by 6 wickets or 100 runs would secure a 30% discount, and if the margin was 3 wickets or 50 runs, a 10% discount was on offer. This creative promotion came with clever, humorous codes like 'Boys Played Well,' 'Ek Shaheen Haar,' and 'No Mauka Mauka.'
Former Indian cricketer Virender Sehwag, on his social media account, posted an image of the advertisement along with a caption that humorously stated, "Na Ishq mein na Pyaar mein . Jo mazza hai Pakistan ki haar mein. Aise kaun invite karta hai yaar. Sahi khel gaye MMT ! (Not in love, not in romance. The real joy is in Pakistan's defeat. Who invites like this? Well played, MMT!)"
Na Ishq mein na Pyaar mein .
Jo mazza hai Pakistan ki haar mein.

Aise kaun invite karta hai yaar 🤣

Sahi khel gaye MMT ! pic.twitter.com/xfN9sk98sG

— Virender Sehwag (@virendersehwag) October 14, 2023
The upcoming match between India and Pakistan is crucial as both teams have maintained an unblemished record, securing two victories each in the tournament. India secured victory over Australia and Afghanistan, while Pakistan conquered Afghanistan and Sri Lanka.
This meeting marks their third encounter in 2023, following the Asia Cup. Fans are eagerly anticipating the match, expressing their excitement through a flurry of memes, spanning from image edits to Bollywood-inspired references on social media.
Last Updated on October 14, 2023