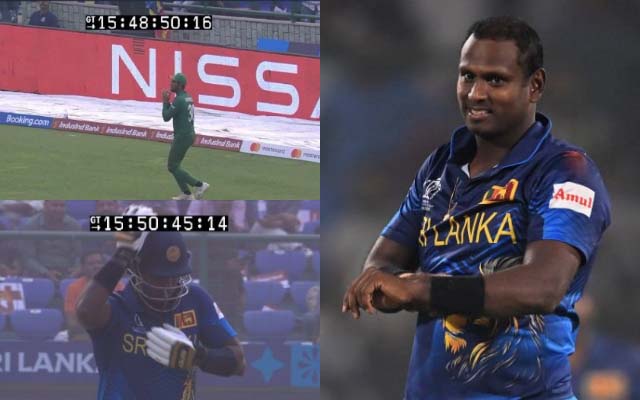 Angelo Mathews disputed the Fourth Umpire's claim of being timed out, providing video evidence to support his case, insisting that he stayed within the two-minute limit and should not have been dismissed.
In the 2023 World Cup clash between Sri Lanka and Bangladesh in New Delhi on November 6th, Angelo Mathews became the first cricketer in international cricket to be 'timed out.' The controversy arose when Mathews took more than two minutes to face the bowler after Sadeera Samarawickrama's dismissal and this delay led to Bangladesh appealing for a 'timed out' dismissal.
This incident triggered heated altercations between the two teams, with Mathews frequently reminding Bangladesh about the contentious dismissal when they batted, leading to an ongoing and intense on-field dispute.
READ MORE | Bangladesh Appeals, Umpires Agree: Angelo Mathews Timed Out in World Cup Match; Dismissal Sparks Controversy
The Sri Lankan all-rounder has now challenged his 'timed out' dismissal by presenting 'proof' that he complied with the official two-minute time limit for a new batter to take guard. He shared screenshots from the match footage, revealing timestamps of Samarawickrama's dismissal and his arrival at the crease, asserting that he had five seconds remaining before the two-minute deadline expired.
Proof! From the time catch was taken and the time helmet strap coming off pic.twitter.com/2I5ebIqkGZ

— Angelo Mathews (@Angelo69Mathews) November 6, 2023
Fourth umpire Adrian Holdstock clarified the 'timed out' dismissal rule during the innings break. He explained that the incoming batter must be prepared to face a delivery within two minutes, with TV umpires monitoring this time frame and informing the on-field umpires. In the case at hand, the batter wasn't ready within the allotted two minutes, even before the helmet strap issue came into play.
Following the match's conclusion, the players from both teams refrained from shaking hands. Mathews then launched a scathing attack on Shakib and Bangladesh, describing their actions as 'disgraceful' in the post-match press conference.
"I have two minutes to get to the crease and get myself ready, which I did. And then it was an equipment malfunction. And I don't know where the common sense went, because obviously it's disgraceful from Shakib and Bangladesh," Mathews said.
Last Updated on November 7, 2023