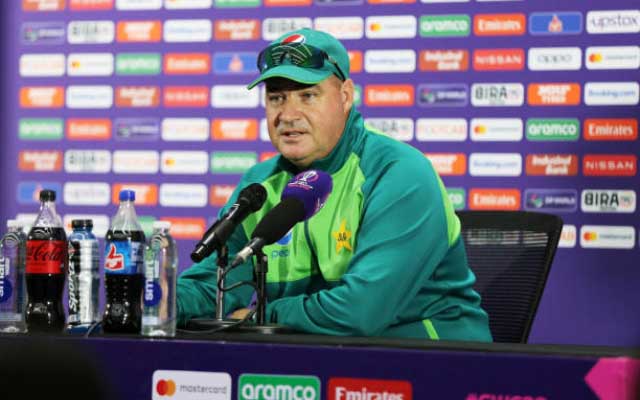 The ICC is set to review Pakistan team director Mickey Arthur's comment that the India vs. Pakistan World Cup match felt like a "bilateral series" game, despite ICC chairman Greg Barclay downplaying the criticism.
The ICC plans to review Mickey Arthur's criticism that the India vs. Pakistan World Cup match felt like a "bilateral series" game while maintaining confidence in the tournament's ultimate success. Arthur acknowledged that the absence of Pakistani fans in Ahmedabad's Narendra Modi Stadium due to visa issues had an impact on the team's performance. Very few Pakistani journalists and a small number of Pakistani-origin fans residing in other countries attended the match.
"Look, I'd be lying if I said it did [not affect us]. It didn't seem like an ICC event, I would be pretty honest. It seemed like a bilateral series, like a BCCI event. I didn't hear ' Dil Dil Pakistan' (a song that celebrates Pakistan and played at every ICC event) coming through the microphones too often. That does play a role, but I am not using that as an excuse because, for us, it was about living in the moment, about the next ball and about how we would combat the Indian players tonight," Artur said after the match.
In response to Mickey Arthur's comments, ICC chairman Greg Barclay appeared to brush them off, characterizing such criticism as a routine part of major tournaments. While attending the International Olympic Committee Session in Mumbai, where T20 cricket's inclusion in the 2028 Los Angeles Olympics was approved, Barclay acknowledged that every event attracts criticism from various sources.
Barclay noted that they would consider the feedback, aiming to make improvements and enhance the overall cricketing experience, but underlined that the current World Cup was just starting, and the true judgment would come at the event's conclusion.
"Let's see how the whole thing plays out and we'll go away and we'll review what could change, what we can do better, how we can improve World Cups, and the general offering around cricket. We will just take it as it plays out, get to the end of the event. I'm satisfied that it will still be an outstanding World Cup," Barclay concluded.
Wasim Akram Disapproves of Mickey Arthur's Comment
Mickey Arthur's comment following the India vs. Pakistan match also left many puzzled. Fans and former cricketers expressed their displeasure with Arthur's remark suggesting that the game felt more like a BCCI event than an ICC one due to a perceived lack of "Dil Dil Pakistan" chants in the stadium.
In response, cricket legend and former Pakistani cricketer Wasim Akram criticized Arthur, emphasizing the need for a focus on Pakistan's World Cup plans rather than such distractions. During a show on Pakistan's national channel A Sports, Akram urged Arthur to focus on strategies against key players.
"What did you plan against Kuldeep Yadav? That's what we want to hear, not this random stuff. You can't get away from this," said Akram.
Moin Khan, another former Pakistani player, echoed Akram's sentiments, stating that Arthur was attempting to divert attention and that coaches should address topics relevant to their roles.
Last Updated on October 16, 2023