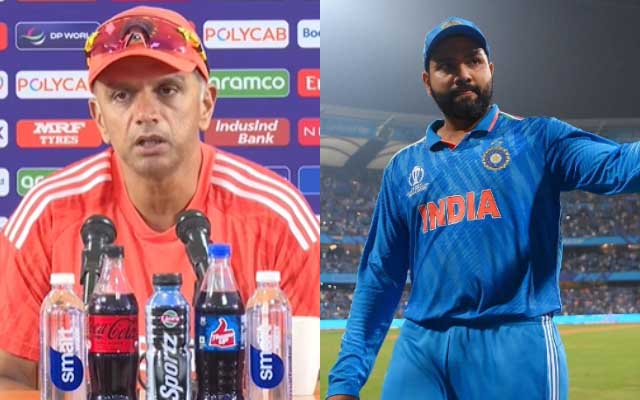 India's head coach Rahul Dravid lauded Rohit Sharma as a leader both on and off the field, highlighting his crucial role in providing strong starts and credited his explosive batting for cracking open games.
Entering the final league stage encounter of the 2023 ODI World Cup against the Netherlands in Bengaluru, India secures the top spot in the points table regardless of the match outcome. Rahul Dravid, during a press conference, expressed pride in the team's performance over eight matches, highlighting the team's commitment to maintaining high standards in execution and intensity.
Focusing on the ninth match, Dravid outlined the team's approach to ticking off essential aspects, noting they've already achieved eight out of nine objectives. He further credited Rohit Sharma's leadership, both on and off the field, highlighting his pivotal role in providing strong starts that have effectively "cracked open the game" in challenging situations.
"Rohit has certainly been a leader, you know, without a doubt. I think he's led by example both on and off the field. Some of the starts that he's given us, the way he's cracked open games for us. There have been some games where it could have been tricky for us, but the fact that he's been able to get us to those kinds of starts has literally cracked open the game," Dravid said.
With a clear distinction between larger-picture contemplation and the current stage, Dravid also stressed the importance of focused thinking, especially considering the team's fitness.
"To be honest with you, you're at a pointy end in a tournament now. So now at this stage it's about just focusing on getting the guys who you think are going to be playing in the 11 in the best possible space mentally and physically to be able to play that semifinal and hopefully the final if we earn it. So that will be the single-pointed thinking it's not about there are times for larger picture thinking and there are times for narrow focus thinking in my opinion and now's the time for sure narrow focus thinking if everyone is fit," he said.
The head coach also commended the Netherlands for their commendable performance in the 2023 ODI World Cup, expressing admiration for their qualification efforts and acknowledging the challenges faced by associate teams in reaching this level. He praised the ICC for its effective efforts in the last two decades, emphasizing its role in enhancing standards and providing equal opportunities for players from associate teams.
Last Updated on November 11, 2023