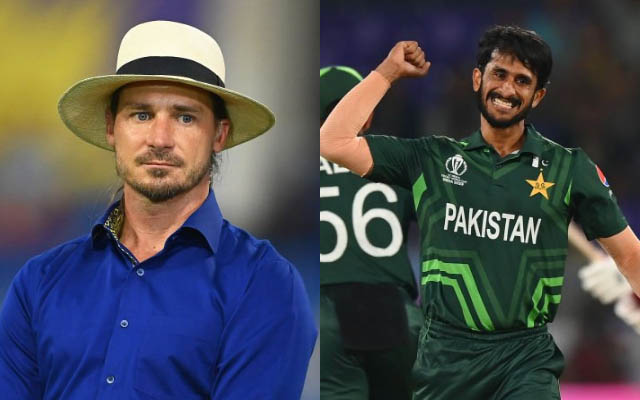 Dale Steyn commended Hasan Ali for his outstanding performance in Pakistan's victory over the Netherlands, recognizing the impact of Pakistan's regular fast-bowling pair's absence at the start of the match.
Pakistan's ODI World Cup opener on October 6 witnessed a dominating performance as they defeated the Netherlands by 81 runs. Under the leadership of Babar Azam, Pakistan excelled in both batting and bowling. They successfully limited the Dutch team to just 205 runs while defending a target of 287.
The return of fast bowler Hasan Ali to the ODI format proved to be a turning point as he replaced the injured Naseem Shah. Hasan Ali made an instant impact, taking two important wickets and conceding only 33 runs in seven economical overs, earning praise from former South African pacer Dale Steyn.
Steyn praised the 29-year-old's performance, recognizing the challenge posed by Pakistan's missing opening fast-bowlers. He highlighted Hasan Ali's deliberate approach, where the right-arm pacer prioritized accuracy over consistently hitting speeds of 140-145 KMPH. This tactic proved remarkably effective in containing the Dutch batting lineup, as noted by Steyn on ESPNcricinfo.
Steyn commended the 29-year-old's performance, acknowledging the disruption caused by the absence of Pakistan's usual fast-bowling duo at the opening. He noted the right-arm pacer's deliberate approach, emphasizing that the speedster refrained from attempting to consistently reach the 140-145 KMPH range. Instead, the Pakistan pacer's focus on precision in line and length proved to be highly effective in stifling the Dutch batting lineup.
"He hasn't taken the new ball for a while now. It disrupts things when you lose your usual fast bowling unit that opens the bowling. But he came in and did a wonderful job. He didn't really try and get the pace up to that 140-145 KMPH," Steyn remarked on ESPNcricinfo. He was very effective on his line and length."
Steyn also highlighted Hasan's cheerful demeanor on the field, underscoring the significance of deriving pleasure from the game. The South African cricket legend noted that Hasan's infectious smile during the competition was a testament to his authentic enjoyment, which played a role in his exceptional performance that day.
"The other thing that I enjoyed about him was that he had a good smile on his face. It looked like he was enjoying himself. When you are enjoying yourself, things come a little bit easier," Steyn added.
Last Updated on October 7, 2023