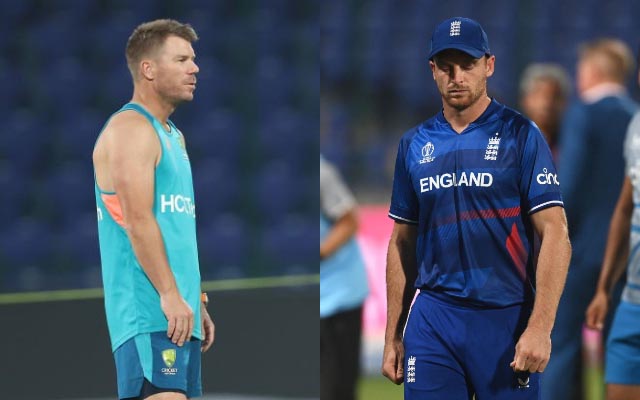 David Warner and Australia aim to compound England's struggles in the ODI World Cup 2023, with the defending champions seeking to get into the top four of the table while facing Australia. 
David Warner and the Australian cricket team are poised to intensify England's misery amid their dismal performance in the ODI World Cup 2023. Despite their triumphant victory in 2019, England has struggled in 2023, enduring four consecutive losses out of six matches played. In their upcoming match, the defending champions are striving to maintain their slim chances of reaching the top four. They face off against Australia, another top-four contender, who have secured four consecutive wins.
Warner expressed his desire to exacerbate England's woes, driven by the historic rivalry between the two teams. However, he acknowledged that England remains a threat because they have little to lose in this encounter.
"It'd be nice to pile on England's misery. But they're the teams that are the most dangerous when there's nothing to lose. They've got some very, very quality players and we have to respect it. They bat to 11 and their bowling unit is very good," Warner was quoted as saying by Cricket.com.au.
Despite facing challenges in red-ball cricket during the Ashes, David Warner has excelled in white-ball cricket. With two centuries in the World Cup, he's become a vital part of the team, known for providing explosive starts during the powerplays.
"Everyone keeps writing me off. I'm doing as well as I can, I'm just trying to go out there and start as well as I can up front in the first 10 (overs). If I get in, I try and make the most of it," said Warner.
Recently, Travis Head returned to the playing XI, hitting a century after regaining full fitness. Mitchell Marsh had been performing admirably alongside Warner, and having both Head and Marsh in the lineup increases pressure on the opposition. The teams will face off on the upcoming Saturday, November 4th.
Last Updated on November 1, 2023