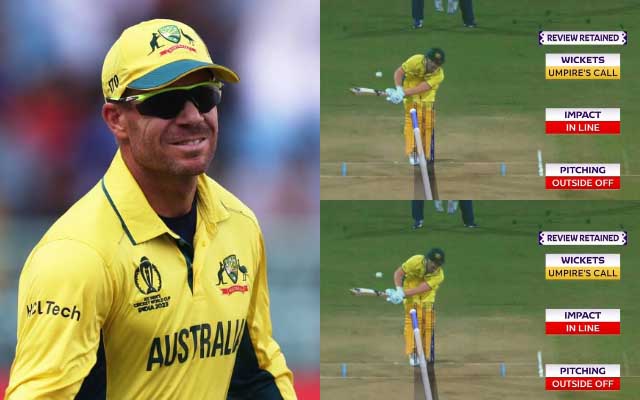 David Warner sought greater clarity in comprehending the Decision Review System (DRS) after facing growing frustration with multiple close decisions during the 50-over World Cup.
David Warner has demanded a clearer understanding of the Decision Review System (DRS) as he grapples with mounting frustration due to several close decisions at the 50-over World Cup. During a match against Sri Lanka, Warner, after scoring 11 runs, expressed visible displeasure when ball tracking upheld umpire Joel Wilson's out call, revealing that the ball marginally hit the leg stump, resulting in an 'umpire's call' decision. Warner's frustration was evident as he aggressively struck his bat against his pad and directed his ire towards Wilson as he left the field.
Umpire Joel Wilson made another LBW (Leg Before Wicket) decision just five balls later, this time involving Steve Smith, who did not challenge the decision given by Dilshan Madushanka. The core issue for David Warner revolves around the time-consuming process of gathering ball-tracking data and the subjective nature of LBW reviews, where the initial decision of the on-field umpire plays a decisive role. Wilson himself appeared taken aback in a previous match when ball tracking displayed three reds, overturning his not-out call for Steve Smith during Australia's game against South Africa.
Notably, these DRS decisions haven't consistently favored one side, with Australia benefiting from a marginal DRS call involving Adam Zampa's LBW decision against Sadeera Samarawickrama.
"I've never had Hawk-Eye come in and explain to us how the technology actually works, it's just for the TV. If they could come in and explain to us how it works, then sometimes we might (choose) not to refer or to refer," said Warner when speaking after Australia's win against Sri Lanka.
Introduced in 2008, the DRS predates Warner's international debut. The ICC employs Sony-owned Hawk-Eye for ball-tracking during its worldwide events. In Australia, DRS services are supplied by New Zealand-based Virtual Eye, which collaborates with Fox Cricket.
"At the moment, we seem to be waiting for (ball-tracking) as a player you get more frustrated because you think: 'Did they line it up, what's the impact points, how many impact points are there before it goes on'. In England, the ball bounces and it actually moves once it's bounced, not just off the seam but in the air it can move, so there are just little things that as a player you get frustrated because there's no explanation … but there has to be some accountability," expressed Warner.
Warner's recent emotional outburst on the field has not resulted in any official sanctions from the ICC. He clarified that his frustration stemmed from his disagreement with the technology. Warner believed the ball-tracking did not align with what he saw on the ground's replay screen. He approached umpire Joel Wilson seeking an explanation for his dismissal, where Wilson mentioned that he thought the ball was swinging back, leading to the out decision. However, Warner's review of the replay left him annoyed as it didn't match his perspective. His loud expression of frustration was directed at himself.
Adam Zampa admitted that when David Warner or Steve Smith get out, he typically leaves the dressing room. However, he remained balanced in his assessment of the technology after taking 4-47 in a pivotal match. Zampa acknowledged that there had been favorable and unfavorable DRS decisions but refrained from passing judgment on the technology, allowing it to function independently.
Australia left Lucknow after two games at Ekana Stadium and has now arrived in Bengaluru, where they are set to play against Pakistan on Friday.
Last Updated on October 20, 2023