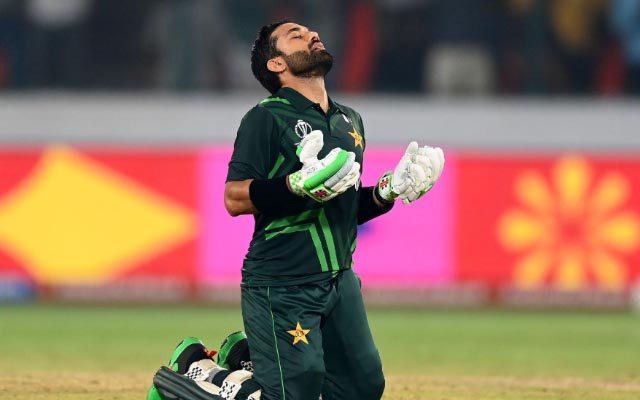 Delhi-based lawyer Vineet Jindal claims to have received a life threat from the terrorist organization 'Hizbul Mujahideen' after filing a complaint against Pakistan wicketkeeper-batter Mohammad Rizwan.
Delhi lawyer Vineet Jindal claims to have received a life threat from the terrorist group 'Hizbul Mujahideen' due to his complaint against Pakistani cricketer Mohammad Rizwan. In a statement posted on his verified social media account on Tuesday night, Jindal revealed that he reported the threat to Delhi Police, specifically urging the Delhi Police Special Cell and DCP North-West Delhi to take swift action in response to the alarming situation.
Adv. @vineetJindal19 Received life threat from Islamic terrorist organization Hizbul Mujahideen on Phone for filing complaint against Pakistani cricket player Mod.Rizwan offering Namaz in Cricket Ground.
Complaint filed with Delhi Police. Request @cp_delhi @CellDelhi…

— Adv.Vineet Jindal (@vineetJindal19) October 17, 2023
In a letter addressed to ICC Chairman Greg Barclay, Advocate Vineet Jindal expressed his concerns about Mohammad Rizwan praying during a cricket match. Jindal believed that this act was an intentional display of his religious beliefs and went against the spirit of the game. He shared this letter on the social media platform X, where he tagged the BCCI, Pakistan Cricket Board, and the ICC.
In his post on October 14, Jindal mentioned that he had filed a complaint with the International Cricket Council to maintain the spirit of sportsmanship. He also sent a copy of the complaint to the ICC Ethics Committee, BCCI, and PCB.
ALSO READ | ICC Receives Complaint Against Mohammad Rizwan for On-Field Namaz During Cricket World Cup
keeping the spirit of sports alive, Advocate Vineet Jindal filed complaint against Mohammed Rizwan, Wicket keeper and batsman of the Pakistan Cricket team for offering "namaz" during Cricket match on 6th Oct'2023 with International Cricket Council.
Copy of the complaint also… pic.twitter.com/pugqIjHgev

— Adv.Vineet Jindal (@vineetJindal19) October 14, 2023
On a related note, the Pakistan Cricket Board (PCB) lodged a complaint with the ICC regarding what they considered "inappropriate conduct" by fans during a high-profile World Cup match against India in Ahmedabad. Additionally, the PCB raised concerns about delays in visa issuance for Pakistani journalists and the absence of a clear visa policy for Pakistani fans attending the 2023 World Cup.
READ MORE | PCB Submits Official Grievance to ICC Over Inappropriate Crowd Conduct and Visa Delays of Journalists in India vs. Pakistan Clash
The Pakistan Cricket Board (PCB) has lodged another formal protest with the ICC over delays in visas for Pakistani journalists and the absence of a visa policy for Pakistan fans for the ongoing World Cup 2023.

The PCB has also filed a complaint regarding inappropriate conduct…

— PCB Media (@TheRealPCBMedia) October 17, 2023
Last Updated on October 18, 2023