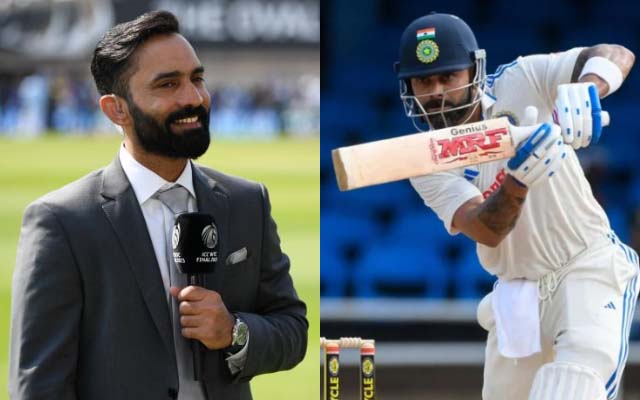 Virat Kohli's 500th international game turned into a masterclass as he graced the cricket pitch with unwavering brilliance. Dinesh Karthik, the veteran wicketkeeper-batter, was all praises astounded by Kohli's relentless spirit that made it seem like he was just playing his 5th game, not his 500th.
On Thursday, during the second Test against West Indies in Trinidad, Kohli's class was on full display as he notched up his 30th fifty and remained unbeaten with a remarkable 87 runs at the stumps. The day's play was also accompanied by a match-defining partnership of 106 runs alongside Ravindra Jadeja (36*).
The half-century marked a significant milestone in Kohli's 500th outing for India, etching his name as the 5th-highest run-getter in international cricket.
After scoring a valiant 74 runs in the innings, the former Indian captain surpassed the legendary Jacques Kallis from South Africa, cementing his name among the top five batters with the most runs in international matches. Kohli's exceptional record now stands at an impressive 5,548 runs, with a remarkable average of 53.67.
"Mr. Virat Kohli, 'King Kohli' as we lovingly call him. And we all can say the lovely shots that he played; the cover drive, the pull. The pull was really good for me, with what happened in previous years. Here's the man who is playing his 500th match but played it like probably it's his fifth match. The hunger on a pitch that probably didn't aid stroke-making, he fought through it," Karthik said, speaking to Cricbuzz.
"We saw that in the first Test as well and we are seeing it again now. If you have heard Rahul Dravid speak about him, the two things that he said – the respect and the sacrifices. And you can see that shining through in this innings yet again. Not at his fluent best, for sure, but he made it count, just making sure that he stood there and played those tough balls out. Even he could play a million shots, just making sure that he is mentally there and making it count for Team India. He just goes out there, grinds it out, hits a 50 off 97 balls, ends up being not out at the end of the day's play and forges a lovely partnership with Ravindra Jadeja. That's the man for you," he added.
Following the early dismissal of Shubman Gill (10), Kohli took center stage holding his ground while both Rohit Sharma and vice-captain Ajinkya Rahane fell in quick succession. Alongside Jadeja, Kohli masterfully anchored India's innings, propelling them to an impressive score of 288/4 by stumps on day one of the game.
Last Updated on July 21, 2023