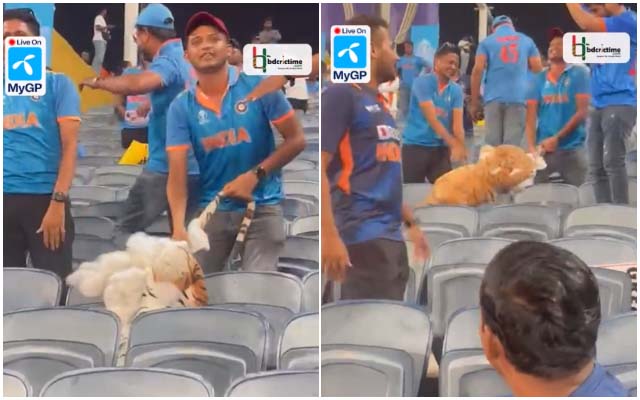 In a distressing incident captured on camera during the India vs. Bangladesh World Cup 2023 match at Pune, Indian spectators harassed a Bangladesh fan named Tiger Shoaib, dismantling his cherished tiger mascot.
In an unfortunate departure from cricket's gentlemanly reputation, the ICC Cricket World Cup 2023 bore witness to a disturbing incident. During the India vs. Bangladesh match in Pune on October 19, Indian fans subjected ardent Bangladesh supporter Shoaib Ali Bukhari, affectionately known as 'Tiger Shoaib,' to harassment.
'Tiger Shoaib' is renowned for his fervent backing of the Bangladesh cricket team, characterized by his distinctive attire: he paints his body in tiger colors and sports a toy tiger as a mascot for the team. His unwavering support has made him a familiar face at cricket matches across India and beyond, ensuring he never misses a chance to rally behind his beloved team.
Shoaib Ali, Bangladesh's superfan, fondly known as 'Tiger Shoaib' has faced harassing behavior from the Indian fans in the India vs Bangladesh match in Pune

Look how his Tiger Mascot had been torn apart by the Indian fans!

It's not acceptable from the HOME crowd#INDvBAN… pic.twitter.com/XFdIo6beav

— bdcrictime.com (@BDCricTime) October 21, 2023
Prior to the match, a heartwarming moment had unfolded as Tiger Shoaib, the passionate Bangladesh fan, had a chance encounter with Indian captain Rohit Sharma. Waiting outside the stadium with fellow Bangladeshi fans, Shoaib was pleasantly surprised when Rohit Sharma, driving a blue car, rolled down his window and engaged in a brief conversation with him.
Unfortunately, this incident wasn't an isolated one in the tournament. During the India vs. Pakistan game in Ahmedabad, some unruly Indian fans' behavior led to criticism and an official complaint from the Pakistan Cricket Board to the ICC. However, the ICC's rules focus on individual behavior rather than collective actions by the crowd, so no collective action will be taken against Indian fans. The Maharashtra Cricket Association may identify and address the specific individuals responsible for harassing Tiger Shoaib.
Last Updated on October 21, 2023