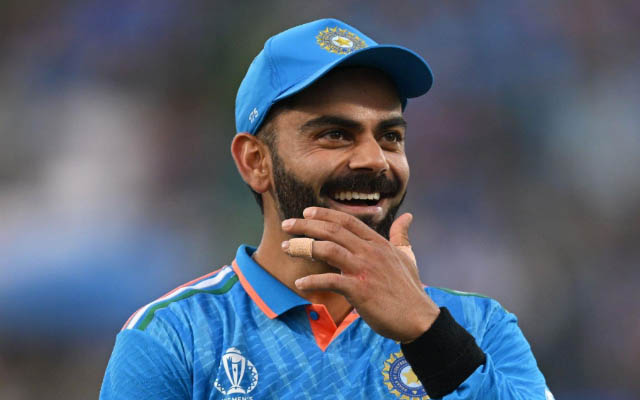 Eden Gardens is preparing a grand celebration for Virat Kohli's 35th birthday, coinciding with the India vs. South Africa ODI World Cup match, which will include the distribution of 70,000 masks and more.
Virat Kohli's 35th birthday, coinciding with India vs. South Africa ODI World Cup match at Kolkata's Eden Gardens, is set to be celebrated in grand style. According to reports from RevSportz, The Cricket Association of Bengal (CAB) has organized extensive plans, including the distribution of 70,000 masks featuring the cricket superstar to fans in attendance. Additionally, a special gift is in store for Kohli, and a spectacular fireworks display is scheduled during the innings break.
Snehasish Ganguly, the CAB president, mentioned that a specially designed birthday cake, with a design closely associated with Virat Kohli, will be a surprise element of the celebration.
"We have ordered a cake for Virat, and the design will be something everyone identifies with Virat Kohli. I am not sharing the pictures yet, for let that be a surprise. We plan to host a fireworks show during the mid-innings interval for Virat and the crowd. It will be our way of celebrating his birthday, and our way of saying that the entire Kolkata crowd are part of the celebrations. We are sure of a full house and everyone in the stands is a Virat fan. It is a gesture on behalf of all of them," Ganguly said.
Virat Kohli has been in exceptional form, notching a century and three half-centuries in six innings during the 2023 World Cup. He stands just one century away from matching Sachin Tendulkar's record of 49 ODI hundreds. India's campaign has been remarkably smooth, even with star all-rounder Hardik Pandya's injury. Rohit Sharma's outstanding performances and solid middle-order support have been crucial. India's bowlers, particularly the pacers, have shined, as seen in their victory over defending champions England in Lucknow. Next up, India faces Sri Lanka at the Wankhede Stadium on Thursday, November 5th.
Last Updated on October 30, 2023