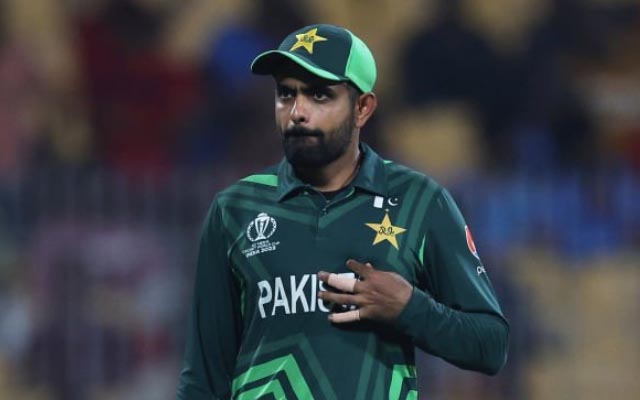 Babar Azam is reportedly considering stepping down from his white-ball captaincy role following the conclusion of the 2023 World Cup, with the decision looming after the team's underwhelming campaign.
Following a lackluster 2023 ODI World Cup, Pakistan's skipper, Babar Azam, is reportedly contemplating stepping down from his white-ball captaincy, with criticisms mounting over his leadership affecting his batting performance. The team's chances of reaching the top four are slim due to an inferior net run rate compared to New Zealand. Recent disappointments, including missing the 2023 Asia Cup final, raise concerns for crucial decisions before the 2024 T20 World Cup and 2025 Champions Trophy.
While not entirely out of the semi-final race, Pakistan's fate hangs on the toss. If batting first, they need to beat the defending champions by more than 280 runs. If they're chasing, the challenge gets even harder because they have to reach the target in less than 5 overs.
According to Geo TV, Babar is considering stepping down from his position as Pakistan's captain, expressing disappointment with the behavior of the Pakistan Cricket Board (PCB) and former cricketers. During the team's training session at the Eden Gardens, Babar consulted with former PCB chief Ramiz Raja, seeking advice on this matter. Close associates have been advising Babar to resign from leadership in all three formats, and though he initially planned to decide during the India stay, he now intends to make the final call upon returning home after the 2023 ODI World Cup.
Earlier, during a pre-match press conference, Babar, when asked about his captaincy decision, stated that he'll decide after returning to Pakistan or post the ongoing match. He also dismissed claims that captaincy affected his World Cup form, attributing the pressure to his performance, not leadership.
Last Updated on November 11, 2023