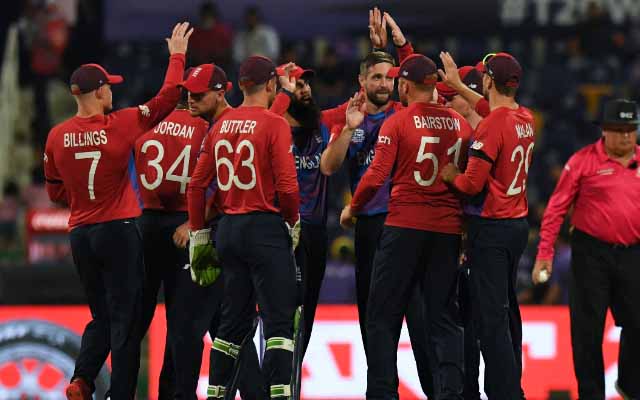 In an exciting start to the 2024 home international season, England Women and Men are all set to host Pakistan in a simultaneous white-ball series.
Led by Heather Knight, the Women's team will commence the summer with a three-match Women's IT20 Series at Edgbaston, followed by matches at The County Ground, Northampton, and Headingley.
In a thrilling victory last November, the England men's team claimed the ICC Men's T20 World Cup title by defeating Pakistan. Now fans can look forward to an exciting four-match Men's IT20 Series (May 22-30) between the two teams before Jos Buttler's squad embark on their tour to the Caribbean and the United States.
To fuel the growing interest in the women's game, England Women's team will hit the cricketing stage with great fervor, playing at 14 venues across the country. The action-packed summer includes hosting New Zealand in a three-match Women's ODI Series and a five-match IT20 Series, culminating with a highly anticipated clash against New Zealand Women at the iconic Lord's Cricket Ground.
As England Men's return from the World Cup, they are all set to embark on an exhilarating Test summer, starting with a clash against West Indies from July 10 to 30, followed by an enthralling series against Sri Lanka scheduled from August 21 to September 10.
Additionally, Australia, who are currently battling it out in the Ashes, will return to the UK in September next year for a thrilling series of white-ball matches, including three T20Is and five ODIs.
The cricketing calendar promises an exciting lineup of matches that will captivate fans and keep the cricketing spirit alive throughout the summer.
Scroll through to find the match schedule.
2024 England Women's Home Schedule
Women's IT20 Series v Pakistan Women
11 May: 1st Women's IT20 – Edgbaston, Birmingham
17 May: 2nd Women's IT20 – The County Ground, Northampton
19 May: 3rd Women's IT20 – Headingley, Leeds
Women's One-Day International Series v Pakistan Women
23 May: 1st Women's One-Day International – The Incora County Ground, Derby
26 May: 2nd Women's One-Day International – The Cooper Associates County Ground, Taunton
29 May: 3rd Women's One-Day International – The Cloud County Ground, Chelmsford
Women's One-Day International Series v New Zealand Women
26 June: 1st Women's One-Day International – Seat Unique Riverside, Chester-le-Street
29 June: 2nd Women's One-Day International – New Road, Worcester
3 July: 3rd Women's One-Day International – Seat Unique Stadium, Bristol
Women's IT20 Series v New Zealand Women
6 July: 1st Women's IT20 – The Ageas Bowl, Southampton
9 July: 2nd Women's IT20 – The 1st Central County Ground, Hove
11 July: 3rd Women's IT20 – The Spitfire Ground, St Lawrence
13 July: 4th Women's IT20 – The Kia Oval, London
17 July: 5th Women's IT20, Lord's – London
2024 England Men's Home Schedule
Men's IT20 Series v Pakistan Men
22 May: 1st Men's IT20 – Headingley, Leeds
25 May: 2nd Men's IT20 – Edgbaston, Birmingham
28 May: 3rd Men's IT20 – Sophia Gardens, Cardiff
30 May: 4th Men's IT20 – The Kia Oval
Men's Test Series v West Indies Men
10-14 July: 1st Men's Test – Lord's, London
18-22 July: 2nd Men's Test – Trent Bridge, Nottingham
26-30 July: 3rd Men's Test – Edgbaston, Birmingham
Men's Test Series v Sri Lanka Men
21-25 Aug: 1st Men's Test – Emirates Old Trafford, Manchester
29 Aug – 2 Sept: 2nd Men's Test – Lord's, London
6-10 Sept: 3rd Men's Test – The Kia Oval
Men's IT20 Series v Australia Men
11 Sept: 1st Men's IT20 – The Ageas Bowl, Southampton
13 Sept: 2nd Men's IT20 – Sophia Gardens, Cardiff
15 Sept: 3rd Men's IT20 – Emirates Old Trafford, Manchester
Men's One-Day International Series v Australia Men
19 Sept: 1st Men's One-Day International – Trent Bridge, Nottingham
21 Sept: 2nd Men's One-Day International – Headingley, Leeds
24 Sept: 3rd Men's One-Day International – Seat Unique Riverside, Chester-le-Street
27 Sept: 4th Men's One-Day International – Lord's, London
29 Sept: 5th Men's One-Day International – Seat Unique Stadium, Bristol
Last Updated on July 4, 2023