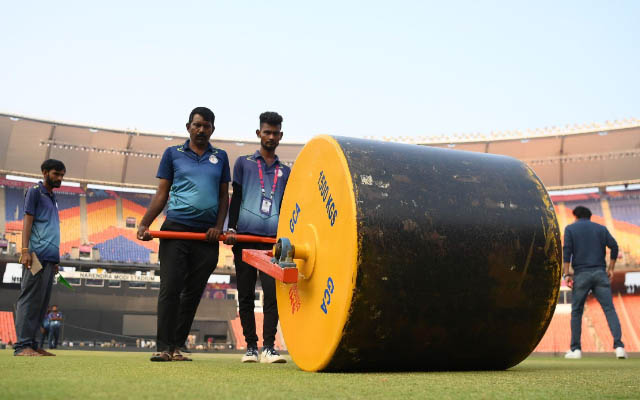 The curator explained that using a heavy roller on a black soil pitch aims to slow the batting track, suggesting 315 runs as a challenging target for the second innings.
Amid controversies about the Wankhede Stadium pitch change before the World Cup 2023 semi-final, rumors circulated that ICC consultant Andy Atkinson might depart before the India-Australia final. However, according to PTI, Atkinson arrived in Ahmedabad to review the pitch preparations for Sunday's title match. Atkinson initially triggered the pitch debate, alleging India's request for a used surface, not a fresh one. 
READ MORE | World Cup Semifinal Pitch Controversy: Michael Vaughan, Darren Lehmann Express Views, ICC Responds
ICC clarified that no rule mandates fresh tracks for semi-finals and informed Atkinson beforehand. An ICC source stated, "Andy hasn't gone back home. He has come with ICC delegation today afternoon and hence didn't come to the ground. He will be available tomorrow to check on the preparation of the track," as reported by PTI.
The BCCI's top ground staff, Ashok Bhowmick and Taposh Chatterjee, along with BCCI GM Abbey Kuruvilla, oversaw the pitch preparation ahead of the India vs. Australia final. While it remains uncertain if a new pitch will be used, the heavy roller was in use on the strip.
A state association curator mentioned that deploying the heavy roller on a black soil pitch aims to create a slow batting track, allowing for high scores but making consistent hitting challenging.
"If a heavy roller is being used on a black soil strip then the idea is to create a slow batting track where you can get a big score but you possibly can't consistently hit through the line. 315 could be a defendable score as batting second will be difficult," he said. 
Last Updated on November 18, 2023