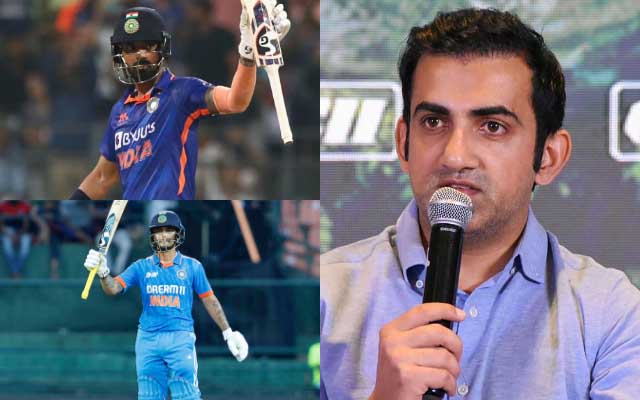 Gautam Gambhir picked Ishan Kishan as India's primary wicketkeeper for the ODI World Cup 2023 over KL Rahul, emphasizing the importance of current form in his decision.
Former Indian opener Gautam Gambhir has made his wicketkeeper choice clear for India ahead of the ICC ODI World Cup 2023, favoring Ishan Kishan over KL Rahul due to Kishan's impressive form, particularly exemplified by his 82-run knock against Pakistan during the Asia Cup 2023. Despite Rahul's recent injury, his historical performance and strong stats batting at number 5 secured him a spot in the World Cup squad, while Sanju Samson missed out on selection.
Despite mentoring the IPL team Lucknow Super Giants, led by KL Rahul, Gambhir favored Ishan Kishan over Rahul due to Kishan's recent stellar performances in international cricket. Gambhir drew parallels with Virat Kohli and Rohit Sharma to support his decision, emphasizing the significance of the current form.
"Tell me something, what is more important to win a championship — name or form? If Rohit (Sharma) or Virat (Kohli) had scored something similar (four consecutive fifties), would you still say that KL Rahul would replace them?," quipped Gambhir when speaking to Star Sports.
"The point is, when you're gearing up to win the World Cup, you don't see the name, you judge by their form. You choose the player who can perform and win you the World Cup," he added.
The former batsman further asserted that Ishan Kishan, despite his limited international experience compared to KL Rahul, deserved preference as India's primary wicketkeeper. Gambhir questioned the notion of favoring Rahul solely based on reputation, asking whether Rahul could replace Virat Kohli or Rohit Sharma if they were in Kishan's position.
"Just because he is Ishan Kishan and hasn't played a lot of international cricket, you're saying that KL Rahul should play before him. But if Virat Kohli or Rohit Sharma were in place of Ishan Kishan, would KL Rahul be able to replace them? The answer is 'no'."
Kishan has excelled primarily as an opener, which would necessitate a top-order reshuffle that India has already solidified. In contrast, Rahul boasts impressive statistics at number 5, providing the Indian team with the desired balance, as emphasized by Rohit Sharma himself.
Last Updated on September 6, 2023