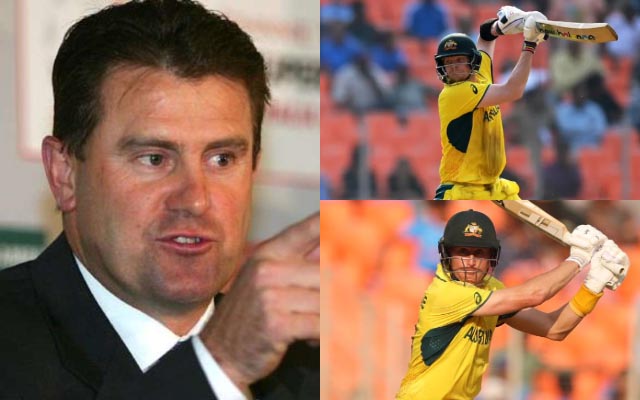 Former Australian captain Mark Taylor has urged the team to separate the batting partnership of Steve Smith and Marnus Labuschagne, citing concerns that they do not complement each other.
Mark Taylor, former Australian captain, has recommended separating Steve Smith and Marnus Labuschagne in the batting lineup, raising the issue before their crucial match against Afghanistan in Mumbai. Despite Steve Smith and Marnus Labuschagne's strike rates of 86.13 and 79.30 in seven games during the 2023 World Cup, Australia has secured five consecutive victories after two initial losses.
Sitting in third place with 10 points after seven games and poised for a semi-final spot, the Australian cricket team is considering a lineup adjustment. Mark Taylor, in a conversation with World Wide of Sports, highlighted that Smith and Labuschagne's similar playing styles may not be the most effective combination and suggested Inglis could provide a more proactive approach in the batting order.
"I think Labuschagne and Smith, they're both good mates, but very similar players. They don't necessarily complement each other when they're out there batting because they are similar players. I just wonder if there's not an idea that if we're going well enough and Smith is in at four, we put Inglis in at five as someone to get on with the game a bit more, to be a bit more proactive and let Smith do what he does, which is knock the ball around," said Taylor.
"That might be something the selectors think about because when Labuschange and Smith bat together they almost play the same way and I think it makes it easier for oppositions to set fields when they know the batting is going to be pretty consistent," he added.
Australia aims for a fifth ODI World Cup win, having beaten England by 33 runs in their previous match. Smith's World Cup performance has been modest, with only 205 runs in seven matches at an average of under 30. While Smith has faced challenges, Taylor underlined that he remains a definite selection for Australia's playing XI.
After the Afghanistan match, Australia will finish the round-robin stage against Bangladesh on November 11 in Pune.
Last Updated on November 7, 2023