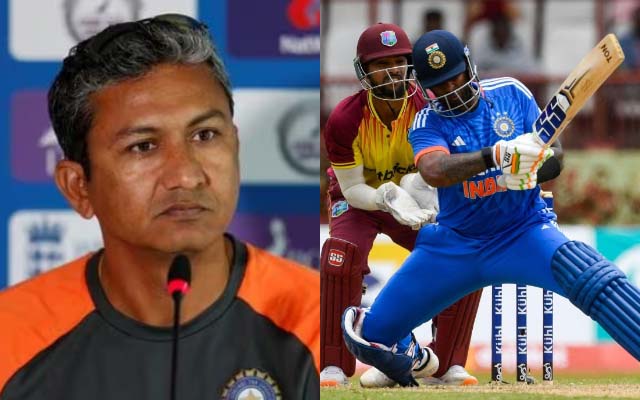 Sanjay Bangar believes Suryakumar Yadav's ODI form suggests a lack of mental and emotional clarity and advocates providing him with suitable opportunities in the team.
Despite shining in T20Is, Suryakumar Yadav has struggled to make an impact in ODIs, amassing just 511 runs in 26 matches at an unimpressive average of 24.33. Despite these woes, he has retained his spot in India's 15-member squad for the upcoming ODI World Cup. Former India batting coach Sanjay Bangar has pointed out Suryakumar's challenges in ODI cricket, emphasizing the need for mental clarity and the ability to find innovative ways to rotate the strike during the middle overs. Bangar also highlighted the importance of scoring boundaries when the ball is older, a concern for Yadav.
He (SKY) has already said that Rahul Dravid is there, and he has spoken to him. The biggest factor is that boundaries don't come that easily in the middle part of the innings. When three or four wickets go, then how do you find the boundaries is the big problem because the ball becomes old?" Bangar said when talking to Star Sports.
Suryakumar Yadav lacks clear direction in his mindset when it comes to his approach during the 25th to 40th over, according to the former India batting coach.
"Suryakumar Yadav is a versatile player; he definitely targets boundaries and where to hit them. He has a very good idea of where to hit them, but if there is one thing he needs to do, it is to find out how to bat between the 25th and the 40th over. I don't think he is clear in his head and heart about how to score runs in this period. He can play like he does in the T20 format, but if wickets fall, he needs to find out how to rotate strike between the 25th and the 40th over, and he needs to find his own method to score runs here, which he is obviously thinking about," added Bangar.
As KL Rahul and Shreyas Iyer make their comeback, Suryakumar Yadav finds himself on the bench during the ongoing Asia Cup, where he hasn't played in India's two matches so far.
Sanjay Bangar suggests that while Yadav deserves opportunities, his inclusion should not be merely for the sake of game time, emphasizing the need for strategic decisions.
"According to me, if the team has an opening where he can play, he definitely should. But, to put him in the starting eleven only for him to get game time, I don't think the team needs to do all of that. And the players which are in the starting eleven are very good players; whenever they get the chance they come and straight away have the ability to have an impact on the game. And, whatever preparation they have in the nets, there are a lot of resources which can help them. So, with that, they can prepare and train and continue the momentum, but now is not the stage to experiment and play a player only to get game time and change the combination just for that," he further added.
Last Updated on September 7, 2023