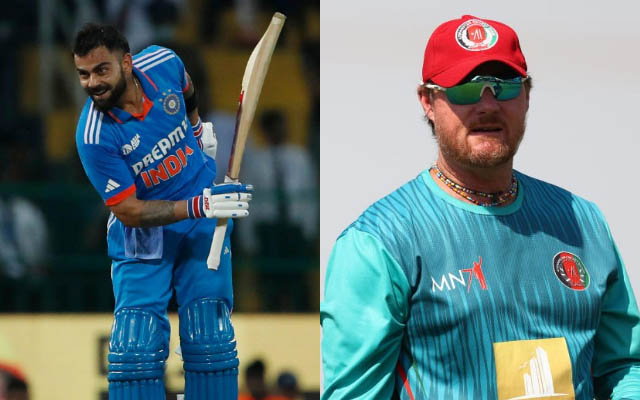 Former South African all-rounder Lance Klusener expressed confidence that Virat Kohli could become the leading run scorer if India goes all the way in the upcoming 2023 World Cup.
Lance Klusener is confident that Virat Kohli will lead the run-scoring charts in the upcoming 2023 World Cup starting on October 5. Kohli's recent impressive performances, including his 47th ODI hundred against Pakistan in the Asia Cup and a solid fifty against Australia in Rajkot, have showcased his enduring form. Despite speculations about this being Kohli's final World Cup, Klusener believes there's no sign of him slowing down.
"Virat Kohli, retirement? Probably not. He's absolutely quality. He'll be playing in his home conditions. He'll probably be the leading run scorer if India go all the way," said Klusener when speaking to CricBlog.
Australia faces a challenge in the absence of left-arm spinner Ashton Agar due to injury, leaving them with only one specialist spinner, Adam Zampa, alongside occasional spinners Glenn Maxwell, Marnus Labuschagne, and Travis Head when fit.
Lance Klusener suggested that Australia should capitalize on their fast bowling strength rather than searching for a spin partner for Zampa. He argued, "If there's no spinner for Australia, no quality spinner, are you better off choosing a fast bowler. They might be lacking one quality spinner but they've proved in South Africa they've got more than enough weapons in terms of slower bowling and full pace when it comes to doing what they need to do in the World Cup."
Klusener further expressed his sentiments about the absence of the West Indies in the upcoming World Cup, noting that it feels unusual not to have them participate.
"It's a little bit weird not having the West Indies there. They're going through a transition at the moment, failing to qualify in Zimbabwe. Bit of a shame, it's always nice to have them in any World Cup," he remarked.
The 2023 World Cup is set to start with a high stakes match as defending champions England face off against New Zealand in a rematch of the thrilling 2019 final.

Last Updated on October 4, 2023