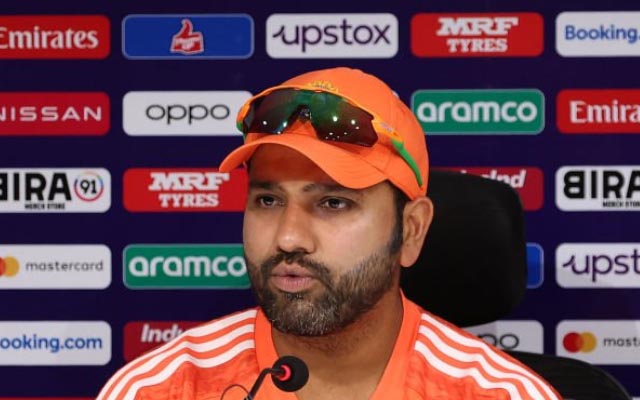 Rohit Sharma's candid reflection on the World Cup underscored the legacy of Sachin Tendulkar's quest for victory, as he echoed the sentiment of "unfinished business" until winning a World Cup trophy.
Rohit Sharma, speaking openly, referred to the cricketing legend Sachin Tendulkar and his unwavering desire to win the World Cup. When asked about the significance of not winning a World Cup for today's cricketers, Rohit used the term "unfinished business," echoing Tendulkar's sentiments. Tendulkar, one of the greatest players in the sport's history, had to make six attempts before finally achieving a World Cup victory in 2011, marking a historic moment for the Indian cricket team.
"You heard the great man say that so many times that you know until he wins the World Cup, he's got a bit of unfinished business. I'm sure you know who I'm talking about" said the skipper in a pre-match presser.
The 2011 World Cup victory, celebrated in front of a jubilant home crowd at Mumbai's Wankhede Stadium, fulfilled a long-standing dream. While Tendulkar had his dream that night, another right-handed batsman, 24-year-old Rohit Sharma, was omitted from the squad. Despite the disappointment, he was resolute in getting his career back on track and never wavered.
In just 12 years, Rohit not only excelled as a batter but also earned recognition for his leadership. After winning several titles with the Mumbai Indians, he was chosen to captain the Indian team in various formats. Now, he's on the verge of leading India in a World Cup match.
Rohit Sharma expressed his immense pride in not only being a part of the World Cup team but also serving as its captain.
"It's a huge honour to be part of this World Cup team, firstly, and then being the captain. 50-over World Cup is the biggest sporting event in cricketing history. So, for me, this is the biggest event that I will be part of. And being the captain as well, yes, it's a huge honour. I've said it many a times that it was always a dream to be part of the World Cup team. And then now to be part of the team and then the captain, I don't know how to describe that because it's a big deal for me," expressed Rohit.
While Rohit excelled as a batter in the 2019 edition with five centuries as an opener, the upcoming World Cup on home soil presents an entirely new challenge.
Rohit also revealed how he approaches the World Cup as a tournament rather than getting bogged down by its magnitude. He highlighted focusing on the immediate opposition without the burden of future expectations. To manage pressure, he stressed on simplifying the approach, concentrating solely on the task at hand.
"World Cup being a different ball game, yes, it's World Cup, but we want to treat this as a tournament for us as we come against different opposition, we focus on that opposition and then move on from there, not worry about what lies ahead, what's there for us in the future and things like that. And for me as a batter, yes, I want to focus on what I can do the best for the team, whatever is required, whether it is giving good starts, batting as long as possible. I'll try and do everything that is required for the team," added Rohit.
While the World Cup stands as the pinnacle of a cricketer's career, Rohit Sharma also emphasized the importance of a measured approach, stating, "You want to win the World Cup, It's the biggest prize that you can have in your career. But again, there's a way to do it. In desperation, you can do so many things that can lead into so many other things as well. So, it's good to be desperate. It's good to be hungry. But you've got to find that balance, right? Balance to stay desperate and stay hungry for, scoring runs, lifting the trophy, winning games, whatever that is. But there is a balance that you need to find."
Rohit Sharma concluded his heartfelt press conference on a note of hope, expressing a desire for the team to receive the necessary dose of luck to succeed in the tournament. With a hopeful smile, he expressed optimism about the team's chances of winning the World Cup.
Last Updated on October 8, 2023