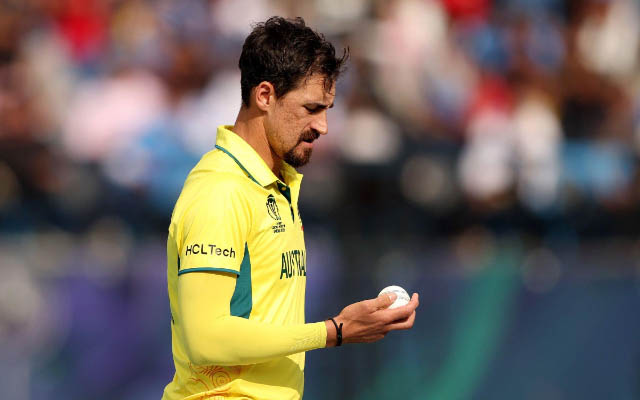 Mitchell Starc, despite aiming to prolong his one-day cricket stint, unequivocally asserted he won't partake in the subsequent World Cup, prioritizing Test cricket as his paramount focus.
Mitchell Starc's performance in the ongoing ODI World Cup might not have met his expectations, but he's optimistic about shining in the upcoming semi-final against South Africa. As he anticipates the 2027 ODI World Cup, Starc, nearing 38 years old by then, firmly asserts he won't be part of that tournament, despite his desire to continue playing one-day cricket for some time.
Currently in India for the 2023 ODI World Cup, Starc emphasized his commitment to Test cricket, stating he'd step away from other formats before bidding farewell to red-ball cricket.
"I'll look to keep playing after this, but I don't doubt that I won't be making the next World Cup. I've no vision for that. Four years is a long (time)," Starc said when speaking to the reporters.
"I've always maintained that Test cricket is the top of the tree for me and I'll drop off the rest before I let go of Test cricket. For me (World Cup semifinal) is just another one-day game for Australia, it's not the end of the road in one-day cricket as yet for me," he added.
Starc admitted his performance in the ongoing tournament fell below his expectations, securing 10 wickets at 43.90. He also acknowledged his struggle to reach previous World Cup standards but looks forward to making an impact in crucial matches.
"I certainly haven't been at the level I would have liked… or not the same level as the last two World Cups anyway, but now a chance at the pointy end to impact again," he said
The pace-bowler further highlighted the challenge for bowlers due to batting-friendly pitches and two new balls in ODIs, tipping the balance in favor of batsmen. He underlined the imbalance in statistics between runs and centuries compared to wickets taken, urging bowlers to adapt and overcome these conditions.
Last Updated on November 14, 2023