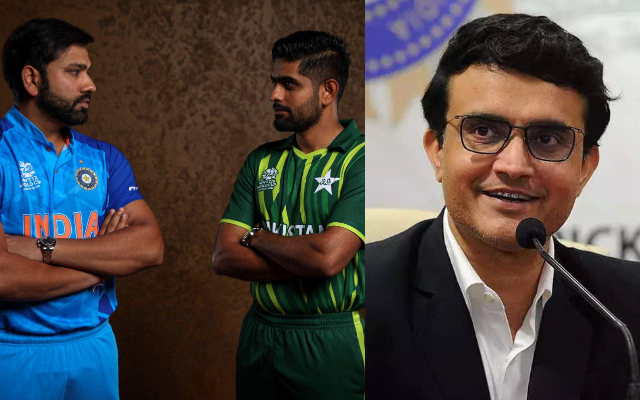 Former India captain Sourav Ganguly has expressed confidence in the Indian cricket team's status as favorites when it comes to clashes against Pakistan in major tournaments.
Speaking to RevSportz, Ganguly asserted that India would always be considered his favorite in larger tournaments due to historical precedents. The former BCCI president emphasized that India has consistently had the upper hand against Pakistan, adding weight to their status as frontrunners.
However, he also acknowledged the strength of the current Pakistani team stating "But this Pakistan is a good team."
The Asian Cricket Council (ACC) has finally resolved the issue of Pakistan's participation in the Asia Cup by opting for a split hosting arrangement with Sri Lanka. Pakistan will host four matches, while Sri Lanka has been entrusted with nine.
In what promises to be exciting encounters at the Asia Cup 2023, Rohit Sharma's team is set to clash with Babar Azam and his side at least twice, first during the group stage and then in the Super 4 round, assuming both teams make it through.
Sharing his thoughts on potential semifinalists for the upcoming World Cup, Ganguly stated, "Australia, England, India. You can never underestimate New Zealand in these big matches. I will pick five and include Pakistan also. Pakistan better qualify so that we will have the India-Pakistan semi-final at the Eden Gardens."
Highlighting future plans, the legendary opener also shared intentions to enhance the seating capacity of the iconic stadium in Kolkata, with a target of accommodating approximately 1 lakh spectators in the next couple of years.
Last Updated on July 9, 2023