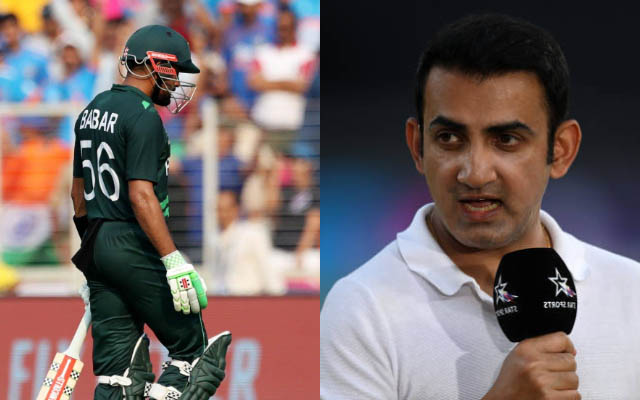 Gautam Gambhir criticized Babar Azam's timid approach during his partnership with Rizwan in Pakistan's World Cup match against India, suggesting that one of them should have taken more chances for better results.
Former Indian cricketer Gautam Gambhir criticized Pakistan's captain, Babar Azam, for his approach during the ICC World Cup match against India, where Pakistan lost by seven wickets. Gambhir pointed out that Babar appeared nervous and questioned his cautious partnership with wicketkeeper Mohammad Rizwan, despite being the top scorers for Pakistan with 50 and 49 runs, respectively.
Gambhir then underlined the need for one of them to take more risks and not just aim for personal milestones. This critique followed Pakistan's disappointing performance in the game played at Ahmedabad's Narendra Modi Stadium.
During a discussion on Star Sports, Gambhir criticized Babar Azam's cautious approach, calling him "extremely timid". He also expressed concerns about the absence of an aggressive batter in Pakistan's top order, citing the historical preference for aggressive openers like Shahid Afridi and Imran Nazir.
"Babar Azam has been extremely timid. Two batters cannot bat the same way in a partnership, one of them has to take chances. If you are playing for a fifty or your runs, you will get such results," Gambhir said.
"Babar Azam has scored a lot of runs for himself but it's been Pakistan's history that they have liked to bat aggressively at the start, whether it was Shahid Afridi, Imran Nazir or Taufeeq Umar, and they consolidate in the middle. However, here in the top three, there isn't a single batter who can take on the opposition attack," he added.
The former Indian opener further emphasized that Pakistan should have taken a bolder approach at the start of their innings against India's high-quality bowling attack.
"When you play against a top-quality attack, at times you discuss in the dressing room that you will play freely even if you get out for 150, you will not play timidly. If the top three get out early, then the No. 4 and No. 5 would consolidate," said Gambhir.
Last Updated on October 16, 2023