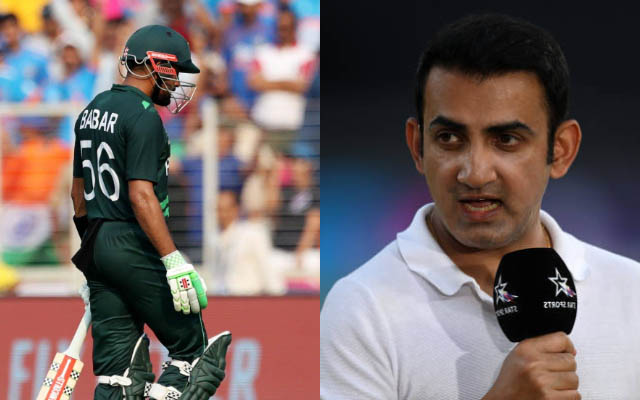 Gautam Gambhir, in an interview with Sportskeeda, offered candid advice to Babar Azam, emphasizing that a legacy in cricket is forged through tournament victories, not personal records.
On October 14 in Ahmedabad, India secured a convincing seven-wicket victory over Pakistan in the 2023 World Cup match. Pakistan batted first but only managed to post a disappointing total of 191, which India successfully chased down in just 30.3 overs. This win extended India's undefeated record against Pakistan in ODI World Cups.
During an interaction with Sportskeeda, Gautam Gambhir offered a straightforward message to Babar Azam after India's decisive victory. He emphasized the need for Babar to exhibit a more proactive approach, both as a batsman and a captain, to create a lasting legacy in Pakistan's cricket history.
"I feel Babar will have to change his personality, his game, and, importantly, his mindset. Pakistan have had a history of attacking batters – Shahid Afridi, Imran Nazir, Saeed Anwar, Aamer Sohail. In the present top three, everyone bats in similar mode. If someone has to take responsibility, it has to be their captain, who bats at No. 3," said Gambhir.
"There is no point looking at stats. You may become Pakistan's leading run-getter, but legacy is created by winning tournaments, not individual records. Wasim Akram took three wickets in the 1992 World Cup final. He did not pick up a five-fer, but everybody talks about it because they won the World Cup. Nobody talks about Mahela Jayawardene's hundred in the 2011 final. Everyone remembers that India won the match," he added.
In the context of comparing the batting performances of Babar Azam and Indian captain Rohit Sharma in the Ahmedabad match, Gambhir pointed out the visible difference in mindset. He pointed out that both players scored fifties, with Rohit reaching 80, highlighting the variance in approach. The former batter further stressed the importance of a captain taking responsibility, as the team's approach often mirrors the captain's mindset.
"The team plays how the captain plays. Both Babar Azam and Rohit Sharma scored fifties. One scored a 50, other scored an 80. None of them scored a hundred, but it was the approach that was the difference. If Pakistan were chasing 190, their mindset would have been just to win the game, whether they get there in 35 or 40 overs. It is important for the captain to take responsibility. If the captain is defensive, the team will be defensive. You can't tell the 10 other players in the room that, 'you play positive, I will play from one end'," Gambhir concluded.
Last Updated on October 17, 2023