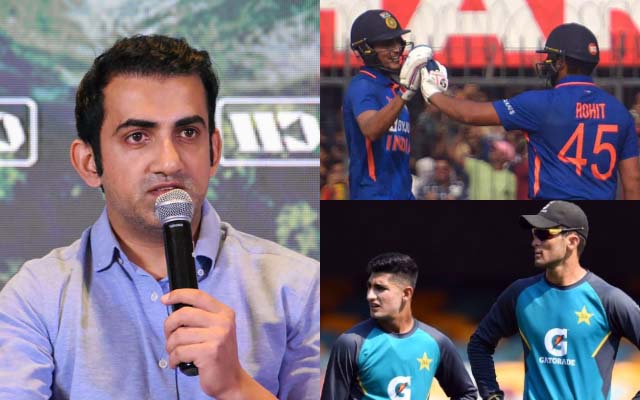 Former Indian opener Gautam Gambhir emphasized the need for Rohit and Gill to proactively seek runs rather than merely playing defensively when facing Afridi and Naseem from Pakistan.
In Kandy, anticipation runs high as Team India prepares to square off against Babar Azam's formidable Pakistani squad in the Asia Cup 2023 opener. This encounter marks their first meeting in the fifty-over format since the 2019 World Cup.
India faces a daunting task against a resurgent Pakistan side that recently dominated, triumphing over Afghanistan 3-0 and routing Nepal by a massive 238 runs in their Asia Cup debut. The team, brimming with confidence, maintains an unchanged XI as they brace for the contest.
A captivating subplot will be the showdown between India's top-order batsmen and Pakistan's left-arm pace sensation, Shaheen Shah Afridi, set to unfold at the Pallekele stadium.
Pakistan's pacer has remained a consistent challenge for Indian batters and the upcoming Saturday clash is no exception. India's powerhouse batting will face a stern examination from Pakistan's potent pace bowlers.
Former Indian opener Gautam Gambhir had a crucial message for Rohit Sharma and Shubman Gill in anticipation of this high-intensity showdown.
Speaking on the Star Sports program 'Game Plan,' Gautam Gambhir encouraged Rohit Sharma and Shubman Gill to embrace a proactive approach, forgoing defensive tactics.
In his words, "Rohit Sharma and Shubman Gill, your approach has to be clear against Shaheen Afridi and Naseem Shah. Look at scoring runs, not surviving. When you score runs, you are in better rhythm and have better backlift and footwork."
He emphasized that the past instances of Shaheen and Naseem causing trouble for Indian batters in the World Cup are irrelevant in the ODI format, where batsmen have more time to settle in. Gambhir also stressed the importance of maintaining an attacking mindset to create pressure on the opposition.
"Often, people talk about Shaheen and Naseem troubling the Indian batters in the World Cup. But it's all in the past now. ODI is a different format, batters have time to settle into the crease. It's important to bat in positions where if you get a half-volley, you look to hit it, not just survive. The more positive you are, the more you create pressure. Keep it simple, the past is in the past. It's a new day, new match, a different format. Be in attacking mode," he added.
In a pre-match press conference on Friday, Rohit discussed India's strategy against Pakistan's potent bowling trio of Shaheen, Rauf, and Shah. He stated, "We don't have Shaheen, Naseem, and Rauf in the nets. We practice with what we have. All three are quality bowlers. Pakistan always had quality bowlers. We have seen their strengths and weaknesses. We will use our experience vs. them."
Last Updated on September 2, 2023