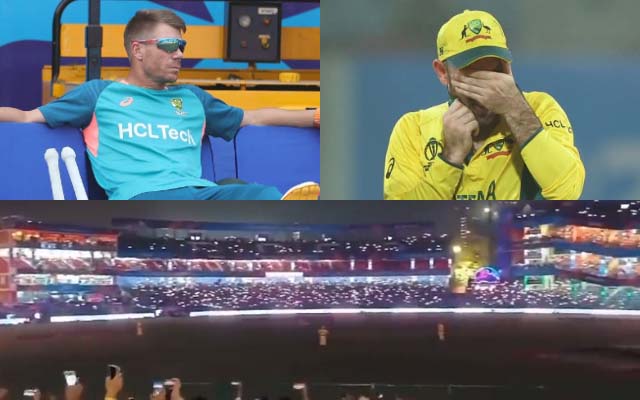 While Glenn Maxwell strongly criticized mid-innings light shows as the "dumbest idea", his fellow opening batter David Warner had a contrasting view, expressing his absolute love of the show.
During the 24th match of the ongoing World Cup, Glenn Maxwell left cricket fans amazed by scoring a breathtaking century in just 40 balls, making it the fourth fastest in One Day Internationals (ODIs) and the fastest ever in a World Cup match. His remarkable performance earned him the Player of the Match title in Australia's record-breaking victory over the Netherlands.
However, amidst the celebrations, Maxwell openly criticized the mid-innings light shows that have become a regular feature in some World Cup matches. At the Delhi venue, the crowd noticed Maxwell shielding his eyes during one such spectacle. He explained his disapproval by recalling a similar experience during a Big Bash game at Perth Stadium, where the bright lights caused him severe headaches and made it challenging to focus on the fast-moving cricket ball.
"Well, something like that light show similar happened at Perth Stadium during a Big Bash game. I just felt like it gave me shocking headaches and it takes me a while for my eyes to readjust. I just think it's the dumbest idea for cricketers when you've got this thing coming at you quickly and your eyes take so long to adjust and I think we just lost a wicket and the Perth Stadium lights went nuts. I was at the other end and it took me ages to get my eyes to go again and I felt like I had a headache – so I just try and cover up as much as I possibly can and ignore it but it's a horrible, horrible idea,"," Maxwell was quoted as saying by Wisden.
Full video of lazer and light tower show at Arun Jaitley Stadium 🏟️⚡ pic.twitter.com/hjlShZzhq4

— Sports Addict (AJ) (@AJpadhi) October 25, 2023
Despite Glenn Maxwell's criticism of the light show during the match, David Warner holds a contrary view. The opening batsman, who scored a century against the Netherlands, expressed his support for the light and sound show, emphasizing that it enhanced the match's atmosphere. He credited fans on the microblogging site X, stating that their support was instrumental in enabling the players to pursue their passion, making it clear that he cherished the experience.
I absolutely loved the light show, what an atmosphere. It's all about the fans. Without you all we won't be able to do what we love. 🙏🙏🙏 https://t.co/ywKVn5d5gc

— David Warner (@davidwarner31) October 25, 2023
On the match front, Australia posted a commanding 399-8 in their 50 overs, an unattainable target for the Netherlands. The Dutch side, unable to cope with Adam Zampa's four-wicket performance, was dismissed for a mere 90 runs.
Last Updated on October 26, 2023