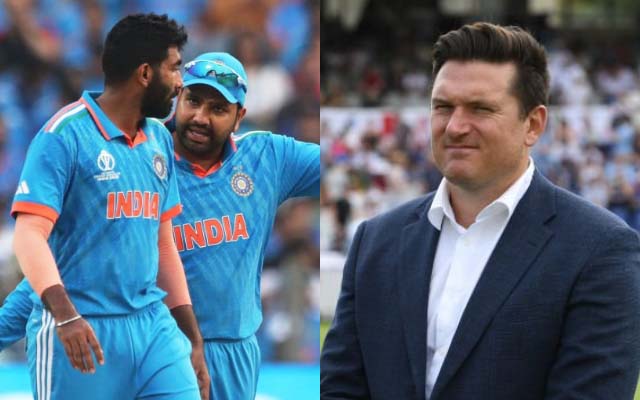 Former South African captain Graeme Smith pointed out an area of concern for team India in the ongoing cricket World Cup while also praising India's dominating performance in the league stage.
Team India has been in red-hot form in the ongoing Cricket World Cup with six wins on the trot. They currently occupy the top of the points table with 12 points in six matches, solidifying their spot in the semi-finals.
However, South African batting legend Graeme Smith who is in India to enjoy the World Cup with his family has pointed out one potential area where team India might struggle in the later stage of the tournament. Smith stated that India has displayed remarkable dominance throughout the tournament, remaining largely unchallenged, except for the initial innings against England, where they fell slightly short of the par total.
"India has been so dominant in the tournament that they have yet to be tested." Last night's 230 total (against England) was perhaps the first occasion you could say that, but it was a tough wicket and it showed. "They've been very dominant thus far," Smith was quoted as saying by the news agency PTI.
"India, at home, are always tough to beat. They play so well in their conditions. You have got the balance, the bowling attack has weapons with fast bowling and great spinners, you have got a lot of bases covered," he added.
Smith further stated that the absence of injured all-rounder Hardik Pandya is a major concern for India going forward in the tournament. India had to bring in Suryakumar Yadav and Mohammed Shami to fill Pandya's void, which according to Smith, has affected the team's balance.
"One worry right now is that you're playing one extra bowler due to Hardik Pandya's injury. They've lost a little of the balance that he brings. If you play against a team that gets you into trouble, say you are three or four down, you are a batter short you are missing that all-rounder. But (the) thing from watching India and the IPL, you have got players that have played in big situations a lot in their career and they have always managed to find a way," Smith explained.
India will play Sri Lanka in their next match at the iconic Wankhede Stadium in Mumbai on November 2nd.
Last Updated on October 31, 2023