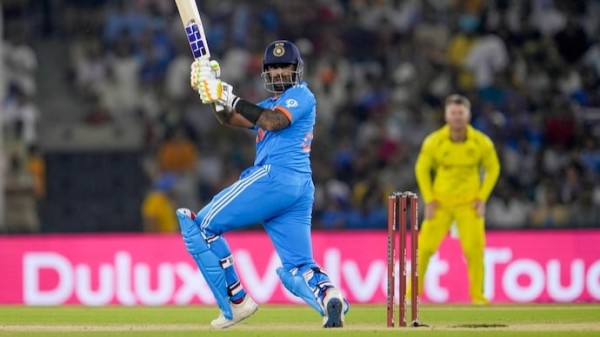 Harbhajan Singh, the former Indian off-spinner, highlighted the importance of Suryakumar Yadav's X-factor for India's 2023 World Cup victory on home turf.
The debate surrounding Yadav's ODI spot has simmered down following his consecutive half-centuries against Australia. Among the array of middle-order batsmen in the Indian squad, Yadav stands out as a game-changer. Despite averaging around 27 in ODIs, his recent performances including the two half-centuries against Australia, make him a compelling choice for the crucial role.
Debates have arisen regarding India's middle-order choices, with Shreyas Iyer, KL Rahul, and Ishan Kishan all in good form. Yet, Harbhajan Singh is clear-cut about selecting Suryakumar Yadav from the start. In his view, SKY's inclusion isn't just about winning matches but also securing tournament victories for India.
"Looking forward to Suryakumar Yadav. He is an X-factor. If he gets going, he won't just win you the match, but he will win you the tournament. If I were a selector, I would have SKY as the second player in my team after the captain. Hardik Pandya is as good as anyone when it comes to hitting the ball and playing the normal game. I would play SKY if I were part of the team management. Who knows if they will play him or not?" Harbhajan said when speaking on India Today Conclave.
Acknowledging the challenge Suryakumar Yadav presents to bowlers, Harbhajan remains steadfast in his support for the dynamic batsman in every World Cup game. Emphasizing the need for such a player, Harbhajan insisted on Yadav's inclusion, even if he faces occasional setbacks, for the entirety of the tournament.
"I don't know what it is about him (Suryakumar). Today, I would be frightened bowling to him but not when I was at my peak. He reminds me of AB de Villiers. We need a player like him to play. Even if flops, I would still play him for the remaining matches," added Harbhajan.
India is scheduled to kick off their campaign against Australia on October 8th, taking place at Chennai's M.A. Chidambaram Stadium. Notably, Australia has included Marnus Labuschagne in their squad, adding an element of intrigue to the composition of both teams' playing XI.
Last Updated on October 5, 2023